Twitter Tweaks [UNMAINTAINED]
by freeplay
Imported and mirrored from https://codeberg.org/Freeplay/UserStyles/raw/branch/main/twitter/twitter-tweaks.user.css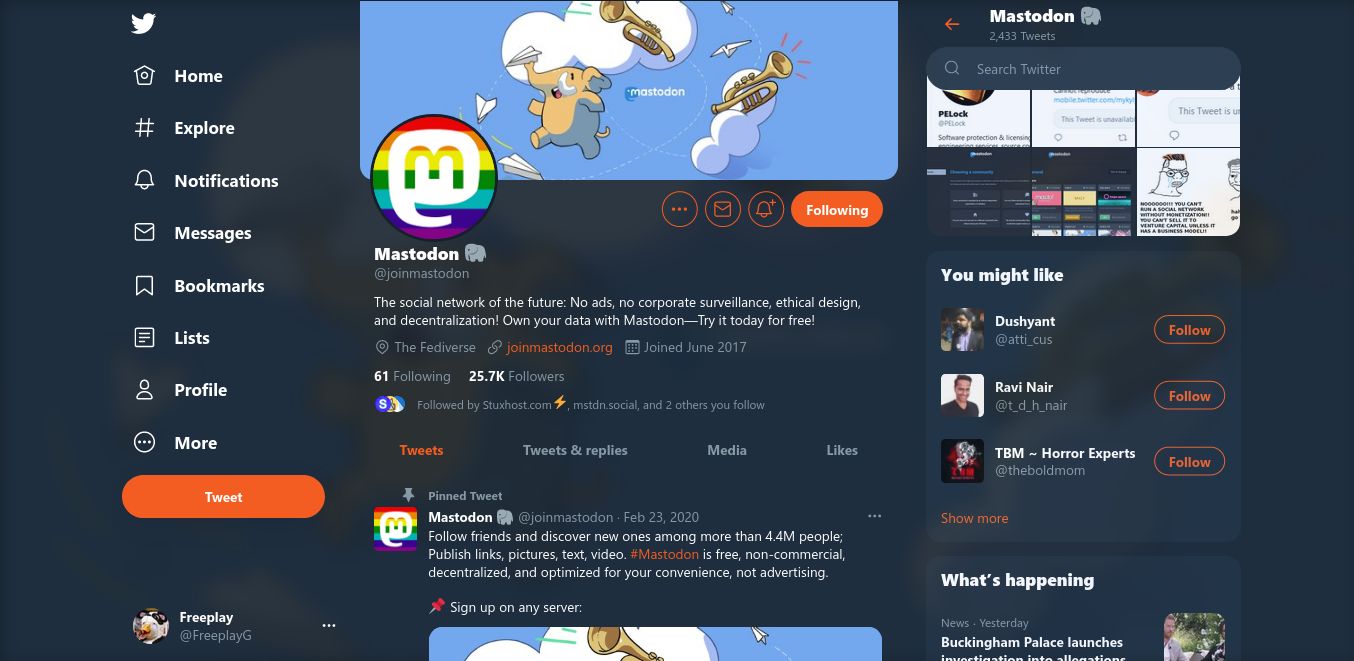 Details
Authorfreeplay
LicenseNo License
Created
Updated
Categorytwitter.com
Statistics
Learn how we calculate statistics in the FAQ.
Total views
Total installs
Weekly installs
Description
A collection of tweaks for uncropping images, hiding trends, avatar roundness, moving header aside, and more! |
Change Log
Notes
In the stylus popup, click the cog icon next to the style name to toggle settings!
twitter is pain
Source code
/* ==UserStyle==
@name           Twitter Tweaks by @FreeplayG
@version        1.3.20
@description    Uncrop images, hide trends, Avatar roundness, move header aside, and more!!
@updateURL      https://codeberg.org/Freeplay/UserStyles/raw/branch/main/twitter/twitter-tweaks.user.css
@preprocessor   stylus

 -- AUTHOR STUFF --
@namespace      Freeplay
@author         Freeplay (https://freeplay.codeberg.page/)
@homepageURL    https://codeberg.org/Freeplay/UserStyles
@supportURL     https://codeberg.org/Freeplay/UserStyles/issues

@var text hehe "As I start to phase out of Twitter, and on to the Fediverse instead, I will be focusing more on other styles. So why not check out Mastodon Modern, too? :)" '"https://twitter.com/FreeplayG/status/1528077571900035074"'
@var text notice 'Make sure you are using the "Stylus" browser extension, not "Stylish"! — Style created by @FreeplayG' "'https://add0n.com/stylus.html'"

@var checkbox moveHeader     "↔ Timeline: Move header to sidebar" 1

@var select   fullWidthMedia "🖼 Timeline: Media Size" ["Default", "Larger*", "Full-Width"]
@var range    avatarRadius   "⚫ Timeline: Avatar Roundness" [30, 5, 50, 5, '%']
@var range    TLWidth        "↔ Timeline: Timeline Width" [600, 600, 1000, 20, "px"]
@var checkbox hideTweetBoxTL "⛔ Timeline: Show Compose Box" 1
@var checkbox hideTLFollow   "⛔ Timeline: Show Who to follow, Topics to follow, & Ads" 0

@var checkbox resizeSidebar  "↔ Image Preview: Enable Dynamic Sidebar Width" 1
@var checkbox removeImageBar "⛔ Image Preview: Show Interaction Bar" 0

@var checkbox noExplore      "⛔ Left Sidebar: Show Explore" 1
@var checkbox noCommunities  "⛔ Left Sidebar: Show Communities" 1

@var checkbox noTrends       "⛔ Right Sidebar: Show What's Happening " 1
@var checkbox noFollowBox    "⛔ Right Sidebar: Show Who to follow " 1
@var checkbox noMessagesBox  "⛔ Right Sidebar: Show Messages" 1
@var checkbox noFooter       "⛔ Right Sidebar: Footer" 0

@var color    themeColor     "🌈 Custom Theme Color" #1da1f2
@var select   noBorder       "⛔ Border Style" ["Default*", "Hide", "keep:Only Timeline Separators"]
@var checkbox columnBG       "💡 Add Contrast between background and feed" 0
@var checkbox bgBanner       "🖼 Use profile banners as background" 0

@var text     customBG 	     "🖼 Custom Background (Link in quotes, image MUST be uploaded to Twitter due to Content Security Policy)" '""'
@var range    customBGOpacity"  ↳ Opacity" [1, 0.05, 1, .05]
@var range    customBGBlur   "  ↳ Blur"    [0, 0, 30, 5, 'px']

@var checkbox moreAnim       "🎞️ More Animations" 1
@var checkbox revertFont     "🇦 Revert Font" 0

@var checkbox followersCount "🖤 Wellbeing: Show Follower Count" 1
@var checkbox likesCount     "🖤 Wellbeing: Show Likes Count" 1
@var checkbox retweetsCount  "🖤 Wellbeing: Show Retweets Count" 1
@var checkbox commentsCount  "🖤 Wellbeing: Show Comments Count" 1
@var checkbox analyticsButton"🖤 Wellbeing: Show Analytics Button" 1

==/UserStyle== */
@-moz-document domain("twitter.com") {
	
	html {
		scrollbar-color: rgba(155,155,155,0.5) transparent;
	}
	
	
	
	// Make 'replying to' appear as an actually clickable button! 
	[class="css-1dbjc4n r-18u37iz r-16y2uox r-1wbh5a2"] {
		& > [class="css-1dbjc4n r-1iusvr4 r-16y2uox"]:last-child > [role="button"] {
			font-size: 0 !important;
			padding-bottom: 0;
			margin-bottom: 0px;
			width: max-content !important;
			max-width: 100%;
			&:hover span::after {
				opacity: .1 !important;
			}
			& > span {
				font-size: 15px;
				background-color: rgba(100,100,100,0.2);
				padding: 6px 12px;
				border-radius: 100px;
				display: inline-flex;
				align-items: center;
				position: relative;
				&::before {
					content: "✏ ";
					font-size: 1.6em;
				}
				&::after {
					content: "";
					position: absolute;
					inset: 0;
					background-color: currentColor;
					border-radius: 100px;
					z-index: -1;
					opacity: 0;
					transition: opacity .1s;
				}
			}
		}
	}
	
	
	// Column Width
	@media not screen and (max-width: 1278px) and (min-width: 987px) {
		if TLWidth == 1000px {
			TLWidth = 9999px
		}
		main > .r-rthrr5, main > .r-33ulu8 {
			// min-width: 390px;
			width: 390px + TLWidth;
			&.r-rthrr5 {
				max-width: calc(100vw - 330px);
				[data-testid="primaryColumn"] {
					max-width: calc(100% - 390px);
				}
			}
			&.r-33ulu8 {
				max-width: calc(100vw - 90px);
                width: TLWidth;
                [data-testid="primaryColumn"] {
                    max-width: 100%;
                }
            }
            flex-shrink: 100;
            [data-testid="primaryColumn"] .r-1ye8kvj {
                max-width: 100%;
            }
            // Messages & Settings
            & > div > div > [aria-labelledby="root-header"] {
                max-width: 390px;
                & + section {
                    max-width: unset;
                    width: 0;
                    flex-grow: 1;
                    .r-1ye8kvj {
                        max-width: 100% !important;
                    }
                }
            }
			// Fix Images
			.r-k200y, .r-1s2bzr4 {
				align-self: unset;
				[role="link"] > div > div > .r-1awozwy {
					align-items: unset !important;
				}
				a[href*="/photo/"] > div {
					min-width: 100% !important;
					div[style^="background-image: url("] {
						filter: blur(10px);
						transform: scale(1.1);
						opacity: .8;
					}
					img {
						object-fit: contain !important;
						opacity: 1;
					}
				}
			}
        }
    }

	
	if customBG != "" {
		body::before {
			content: "";
			background-image: url(customBG);
			background-size: cover;
			background-position: center;
			position: fixed;
			top: 0;
			left: 0;
			right: 0;
			bottom: 0;
			opacity: customBGOpacity;
			filter: blur(customBGBlur);
			z-index: -100;
		}
		
		nav:not(.r-rull8r), [data-testid="SideNav_AccountSwitcher_Button"], [data-testid="primaryColumn"] {
            opacity = customBGOpacity * 1.5 - .7; // No, I cannot math.
            opacityTL = customBGOpacity * 1.5 - .2;
            
            
            if (opacity > 0) {
                div[style*="position: absolute; width: 100%; transform: "] > div {
                    border-radius: 0 !important;
                }
                &:not([data-testid="primaryColumn"]) {
                    border-radius: 16px;  
                }
                &:not([data-testid="SideNav_AccountSwitcher_Button"]):not([data-testid="primaryColumn"]) {
                    padding: 8px 12px;
                }
                

                header &:not([data-testid="primaryColumn"]) {
                    padding: 6px !important;
                    max-width: 225px;
                    transition: padding .2s !important;
                    @media only screen and (max-width: 1278px) {
                        padding: 0 !important;
                        border-radius: 100px !important;
                        transition: padding .2s, border-radius .2s !important;
                    }
                }
            }
            
			body[style*="background-color: rgb(21"] & {
				background-color: alpha(rgb(21, 32, 43), opacity); 
                &[data-testid="primaryColumn"] {
                    background-color: alpha(rgb(21, 32, 43), opacityTL); 
                }
			}

			body[style*="background-color: rgb(255"] & {
				background-color: alpha(white, opacity);
                &[data-testid="primaryColumn"] {
                    background-color: alpha(white, opacityTL); 
                }
			}
			body[style*="background-color: rgb(0"] & {
				background-color: alpha(black, opacity );
                &[data-testid="primaryColumn"] {
                    background-color: alpha(black, opacityTL);
                }
			}
            &[data-testid="primaryColumn"] {
                .r-yfoy6g, .r-kemksi, .r-14lw9ot {
                    &:not(.r-1h3ijdo) {
                        background: none !important;
                    }
                }
            }
		}
		
		
		
	}
	
	// Hide "Don't Miss What's Happening" SignUp banner. 
	// Not making it an option, there is already an non-intrusive card that asks you sign-up anyways.
	#layers:first-child > [class="css-1dbjc4n r-aqfbo4 r-1p0dtai r-1d2f490 r-12vffkv r-1xcajam r-zchlnj"]:first-child {
		display: none;
	}
	
	if not themeColor == #1da1f2 {
		// Alternates by the color, then when hovered over
		.r-l5o3uw,  // Blue
		.r-1vtznih,
		[href="/compose/tweet"][style^="background-color: rgb(29"],
		.r-1to6hqq, // Yellow
		.r-m5n1nr,
		[href="/compose/tweet"][style^="background-color: rgb(255"],
		.r-4nw3r4,  // Violet
		.r-1r4f3zc,
		[href="/compose/tweet"][style^="background-color: rgb(249"],
		.r-168457u, // Purple
		.r-8g4rmw,
		[href="/compose/tweet"][style^="background-color: rgb(120"],
		.r-2r9icm,  // Orange
		.r-oo8a77,
		.r-s224ru,  // Green
		.r-1iwjfv5,
		[href="/compose/tweet"][style^="background-color: rgb(0"],
		{
			background-color: themeColor !important;
			if luminosity(themeColor) < .3 {
				color: white !important;
				* {
					color: white !important;
				}
			} else {
				color: black !important;
				* {
					color: black !important;
				}
			}
			&:hover, &:focus {
				background-color: darken(themeColor, 10) !important;
			}
		}
		.r-o6sn0f,  // GReen
		.r-vkub15,  // Violet
		.r-1gfgf0w, // Yellow
		.r-1cvl2hr, .r-kpws4y // Blue
		.r-5c1b6u,  // Orage
		[style^="color: rgb(0"], // I guess this works? Comma's somehow break the stylus preprocessor.
		[style^="color: rgb(255"],
		[style^="color: rgb(120"],
 		{
			if luminosity(themeColor) < .2 {
				// color: lighten(themeColor, 30) !important;
				newColor = lighten(themeColor, 30)
			} else {
				newColor = themeColor;
			}
			color: newColor !important;
			&:hover, &:focus {
				color: darken(newColor, 10) !important;
			}
		}
	}
	
	// hehe
	[href="/settings/deactivate"][role="tab"] {
		div:last-child > span::after {
			content: " And use Misskey or Mastodon instead :)";
			font-family: -apple-system, BlinkMacSystemFont, "Segoe UI", Roboto, Helvetica, Arial, sans-serif;
			// margin-left: 64px;
			color: inherit;
			opacity: .4;
		}
	}
	[href="/elonmusk/header_photo"] + div [data-testid="UserName"], [href="/elonmusk"] {
		span:first-child > span {
			&::after {
				content "Parody"
				font-size .65em
				background-color rgba(150,150,150,0.2)
				padding .2em .5em
				border-radius 6px
				margin-inline .5em
				vertical-align bottom
			}
		}
	}
	
	if revertFont {
		.r-37j5jr {
			font-family:  -apple-system, BlinkMacSystemFont, "Segoe UI", Roboto, Helvetica, Arial, sans-serif;;
		}
		header nav .r-16dba41 { // I don't think I can change it back to the theme color, this is the best I can do for now.
			font-weight: 600;
		}
	}
	
	if fullWidthMedia != "Default" {
		article [class*="css-1dbjc4n r-1iusvr4 r-16y2uox r-1777fci"] > div:last-child > div {
			&:first-child { // Set a min-height to the text so the images don't cover PFP's
				min-height: 1em;
			}
			&:nth-last-child(2) { // Media
				& > div > div > .r-1ny4l3l.r-1867qdf.r-1udh08x:not([data-testid="card.wrapper"]) {
					// margin-top: .5em;
					if fullWidthMedia == "Larger" {
						margin-left: -60px;
					}
					if fullWidthMedia == "Full-Width" {
						margin-left: -78px;
						margin-right: -18px;
						if columnBG {
							border-radius: 0;
							img {
								border-radius: 0;
							}
						}
						
					}
				}
			}
		}
	}
	
	
	if moveHeader {
		@media only screen and (min-width: 1001px) {
			[data-testid="primaryColumn"] > div > div:first-child {
				border: 0 !important;
				border-radius: 0 0 16px 16px !important;
			}
			main > div > div > div.r-1wtj0ep .css-1dbjc4n [class="css-1dbjc4n r-1h3ijdo r-136ojw6"] {
				width: 352px;
				margin-left: auto;
				margin-right: -382px;
				margin-bottom: -54px;
				background: none !important;
				border-radius: 0 0 16px 16px !important;
				overflow: hidden;
			}
			.css-1dbjc4n [class="css-1dbjc4n r-1h3ijdo r-136ojw6"] > div > [class*="r-1h3ijdo r-ymttw5"] {
				background: none !important;
			}
			
			// Fix tweet padding from top of page 
			[style*="position: absolute; width: 100%; transform: translateY(0px);"] article {
				// padding-top: 15px;
			}
			
			// Sidebar padding
			[data-testid="sidebarColumn"] [class="css-1dbjc4n r-vacyoi r-ttdzmv"] {
				padding-top: 60px !important;
			}
			// Search Bar
			[data-testid="sidebarColumn"] > .css-1dbjc4n > .css-1dbjc4n [class*="r-15ysp7h r-1xcajam r-ipm5af"]::before {
				content: "";
				background-color: inherit;
				width: 100%;
				height: 100px;
				position: absolute;
				bottom: -23px;
				border-bottom-left-radius: 20px;
				border-bottom-right-radius: 20px;
			}
            
            // Add spacing above content
            :not(.r-1p6iasa) + div > div > [role="region"] > [role="heading"] + div > div[style*="position: relative; min-height:"] > div[style*="position: absolute; width: 100%; transform: translateY(0px"] {
                margin-top: 12px;
            }
            
		}
			[data-testid="sidebarColumn"] [class*="r-15ysp7h r-1xcajam r-ipm5af"] {
				top: 52px !important;
				height: 20px;
				min-height: unset !important;
				align-items: flex-start !important;
				overflow: visible;
				z-index: 2;
			}
			@media only screen and (max-width: 1090px) and (min-width: 991px) {
				.css-1dbjc4n [class="css-1dbjc4n r-1h3ijdo r-136ojw6"] {
					width: 290px !important;
					margin-right: -311px !important;
				}
			}
	}
	if resizeSidebar {
        [class="css-1dbjc4n r-18u37iz r-1pi2tsx r-11yh6sk r-buy8e9 r-bnwqim r-13qz1uu"] {
            [aria-roledescription="carousel"] {
                width: 100vw;
                max-width: 100%;
            }
            & > div:last-of-type:not(:first-child) {
                flex-grow: 1;
                max-width: 600px;
            }
        }
	}
	if not removeImageBar {
		.css-1dbjc4n.r-1pi2tsx.r-11yh6sk.r-buy8e9.r-bnwqim.r-13qz1uu > .css-1dbjc4n.r-13awgt0.r-184en5c + .css-1dbjc4n.r-1kihuf0.r-13qz1uu {
			display: none;
		}
	}
    
	if not noExplore {
		nav > [href="/explore"] {
			display: none;
		}
	}
	if not noCommunities {
		nav > [href$="/communities"] {
			display: none;
		}
	}
    
	if not noTrends {
		[data-testid="sidebarColumn"] section.css-1dbjc4n > .css-4rbku5.css-901oao.r-4iw3lz.r-1xk2f4g.r-109y4c4.r-1udh08x.r-wwvuq4.r-u8s1d.r-92ng3h + .css-1dbjc4n {
			display: none;
		}
		[data-testid="sidebarColumn"] [class*="r-1bro5k0 r-1udh08x"] ~ .r-1uaug3w {
			border-top: 0;
			border-bottom: 0;
		}
	}
	if not noFollowBox {
		[data-testid="sidebarColumn"] [class*="r-1bro5k0 r-1udh08x"] {
			display: none !important;
			& ~ .r-1uaug3w {
				border-top: 0;
				border-bottom: 0;
			}
		}
	}
	
	
	
	
	if not noMessagesBox {
		[class*="css-1dbjc4n r-173mn98"][class*="r-c67a83 r-1qk6wnv"][class*="r-1mf7evn r-hvns9x"] {
			display: none;
		}
	}
	if not noFooter {
		[data-testid="sidebarColumn"] nav {
			display: none;
		}
	}
	
	if not hideTweetBoxTL {
		[data-testid="primaryColumn"] > div > div {
            &.r-184en5c, &.r-5njf8e {
                &:nth-child(2) {
                    display: none;
                    + div {
                        background: none !important;
                        border: none !important;
                    }
                }
            }
		}
	}
	
	if not hideTLFollow {
        main [data-testid="primaryColumn"] {
			[data-testid="placementTracking"] > div > article,      // Adverts
			.r-1wtj0ep.r-1f1sjgu:not(.r-s1qlax.r-1f1sjgu),          // Headings
			[data-testid="UserCell"],                               // Users
			section[aria-labelledby*="accessible-list-"] > h1,      // Topics to follow
			section[aria-labelledby*="accessible-list-"] > h1 + div nav,
			[href*="/i/c"], [href*="/i/topics/picker"],             // Show More
			.r-1p6iasa.r-109y4c4, .r-tbmifm,                        // Spacers
			{
			display: none !important;
			// opacity: .2 !important; // Testing
			}
        }
	}

	// Annoying huge "Promote" button on your own tweets when professional account is enabled. You can already do it from the analytics button.
	[data-testid="primaryColumn"] a[href$="/quick_promote_web/intro"] {
		display: none;
	}
	
	if noBorder == "keep" || noBorder == "Hide" {
		*:not(.r-1xl5njo):not(.css-1dbjc4n[aria-label] > div > div > div):not(.r-6t5ypu) {
			border-color: transparent !important;
		}
		a.css-4rbku5 > .r-1adg3ll .css-9pa8cd {
			border-radius: 16px !important;
		}
	}
	if noBorder == "Hide" {
		*:not(.r-1xl5njo):not(.r-6t5ypu) {
			border-color: transparent !important;
			border-bottom: 0 !important;
		}
	}
	
	if columnBG {
        main > div::before,
        main > div::after {
            content: "";
            position: absolute;
            top: 0;
            right: 100%;
            width: 9999px;
            bottom: 0;
            --color: rgba(0,0,0,0.2);
            background-color: var(--color);
        }
        main > div::after {
            right: 390px;
            background: none;
            box-shadow: 9999px 0 0 var(--color);
            pointer-events: none;
            z-index: -1;
            @media only screen and (max-width: 1090px) {
                 right: 320px;
            }
            @media only screen and (max-width: 1000px) {
                 right: 0;
            }
        }
        
        
        
	}
	if bgBanner {
		[class="css-1dbjc4n r-1p0dtai r-1mlwlqe r-1d2f490 r-1udh08x r-u8s1d r-zchlnj r-ipm5af r-417010"] > .css-1dbjc4n.r-1niwhzg.r-vvn4in.r-u6sd8q.r-4gszlv.r-1p0dtai.r-1pi2tsx.r-1d2f490.r-u8s1d.r-zchlnj.r-ipm5af.r-13qz1uu.r-1wyyakw[style*="https://pbs.twimg.com/profile_banners"] {
			position: fixed !important;
			height: 100vh !important;
			width: 100vw !important;
			top: 0;
			left: 0;
			opacity: .1 !important;
			z-index: -99999;
			pointer-events: none;
			filter: blur(10px);
			object-fit: cover;
			background-size: cover !important;
		}
		a.css-4rbku5 > .r-1adg3ll .css-9pa8cd {
			opacity: 1;
            object-fit: cover;
		}
	}

	
	if not followersCount {
		[href$="/followers"] {
			display: none !important;
		}
	}
	if not likesCount {
		[data-testid="like"] span, [data-testid="unlike"] span,
 		[href$="/likes"] {
			display: none !important;
		}
	}
	if not retweetsCount {
		[data-testid="retweet"] span, [data-testid="unretweet"] span,
 		[href$="/retweets"], [href$="retweets/with_comments"] {
			display: none !important;
		}
	}
	if not commentsCount {
		[data-testid="reply"] span {
			display: none !important;
		}
	}
	if not analyticsButton {
		[href$="/analytics"] {
			display: none;
		}
	}
	
	
	
	
	
	[class="css-1dbjc4n r-1wbh5a2 r-dnmrzs"] .r-sdzlij, [class="css-1dbjc4n r-1wbh5a2 r-dnmrzs"] .r-sdzlij img,
	[class*="r-f6ebdl r-sdzlij r-1phboty r-14f9gny r-1loqt21 r-1gzrgec r-cnkkqs r-zjg7tu r-mtrfb5 r-1ny4l3l r-1udh08x r-o7ynqc r-6416eg r-1xce0ei"],
	[class="css-1dbjc4n r-sdzlij r-1p0dtai r-1mlwlqe r-1d2f490 r-1udh08x r-u8s1d r-zchlnj r-ipm5af r-417010"] {
		border-radius: avatarRadius !important;
		transition: border-radius .5s, transform .5s;
	}
	[style*="clip-path:"] {
		& > a {
			background: none !important;
			&::after {
				content: "BLOCK\aME";
				padding-top: 4px;
				position: absolute;
				white-space: pre;
				inset: 0;
				color: white;
				display: flex;
				align-items: center;
				justify-content: center;
				font-size: 12px;
				text-align: center;
				line-height: 12px;
				font-weight: 700;
				font-family: "Segoe UI";
				z-index: 2;
			}
			&::before {
				content: "💩"
				position: absolute;
				inset: 0;
				bottom: 4px;
				display: flex;
				z-index: 1;
				justify-content: center;
				align-items: center;
				font-size: 40px;
				filter: contrast(0) brightness(.5) sepia(1);
				// background-color: white;
			}
		}
	}
	
	if moreAnim {
		
		
		@keyframes fadeIn {
			from { opacity: 0 }
			to   { opacity: 1 }
		}
		@keyframes slideUp {
			from { transform: translateY(10px); opacity: 0 }
			to   { transform: translateY(0px); opacity: 1 }
		}
		@keyframes bounceIn {
			0% { transform: scale(1.1); opacity: 0 }
			30% { transform: scale(.99); opacity: 1 }
			60% { transform: scale(1.005); opacity: 1 }
			100%   { transform: scale(1); opacity: 1 }
		}
		@keyframes scaleIn {
			from { transform: scale(.98); opacity: 0; }
			to { transform: none; opacity: 1; }
		}
		
		
		article > * {
			animation: fadeIn .7s;
		}
		[data-testid="primaryColumn"] > div > div > div:not([data-testid="titleContainer"]),
		{
			animation: slideUp .7s;
			if moveHeader {
				&.r-136ojw6.r-1loqt21 {
					animation: none !important;
				}
			}
		}
		
		.r-xnswec, .r-qo02w8, .r-1upvrn0 {
			animation: scaleIn .3s;
		}
		
		.r-g6jmlv,
 		[class="css-1dbjc4n r-1p0dtai r-1mlwlqe r-1d2f490 r-1udh08x r-u8s1d r-zchlnj r-ipm5af r-417010"] > .css-1dbjc4n.r-1niwhzg.r-vvn4in.r-u6sd8q.r-4gszlv.r-1p0dtai.r-1pi2tsx.r-1d2f490.r-u8s1d.r-zchlnj.r-ipm5af.r-13qz1uu.r-1wyyakw[style*="https://pbs.twimg.com/profile_banners"],
		{
			animation: bounceIn .5s;
		}
		
		
		*:not(.r-1xl5njo):not(.r-1pi2tsx) {
			transition: border .5s, transform .2s;
		}
		body,
		.css-1dbjc4n [class="css-1dbjc4n r-1h3ijdo r-136ojw6"], .css-1dbjc4n [class="css-1dbjc4n r-1h3ijdo r-136ojw6"] > div > .r-yfoy6g,
		[data-testid="sidebarColumn"] > .css-1dbjc4n > [class*="css-1dbjc4n r-1xcajam r-ipm5af"]::before,
		[data-testid="sidebarColumn"] [class*="r-1xcajam r-ipm5af r-1hycxz r-136ojw6"],
		[class="css-1dbjc4n r-173mn98 r-18rd0c5 r-1ff5aok"],
		[class="css-1dbjc4n r-yfoy6g r-18u37iz r-drjvcx r-ripixn r-13qz1uu"],
		[class="css-1dbjc4n r-12vffkv"] nav > a:nth-child(2),
		[class*="r-o4zss7 r-rull8r r-qklmqi r-1d2f490 r-1xcajam r-zchlnj r-1gn8etr"],
 		article, button, a {
			transition: background .3s, margin .3s, padding .5s, width .5s, top .3s, left .3s, bottom, .3s, right .3s, height .5s, transform .5s !important;
		}
		

 		img:active, [style*="background-image: url"]:active, {
			transform: scale(.99) !important;
			transition: transform .2s !important;
			border-radius: 16px;
		}
		[role="button"]:active {
			transform: scale(.95) !important;
		}
		
		
	}
	
	
	
	if noBorder == "Hide" && ! columnBG {
		div[style*="position: absolute; width: 100%;"] > div {
			border-radius: 16px !important;
			overflow: hidden;
		}
        
	}
	
}