Just Dance Now Renewed!
by alxs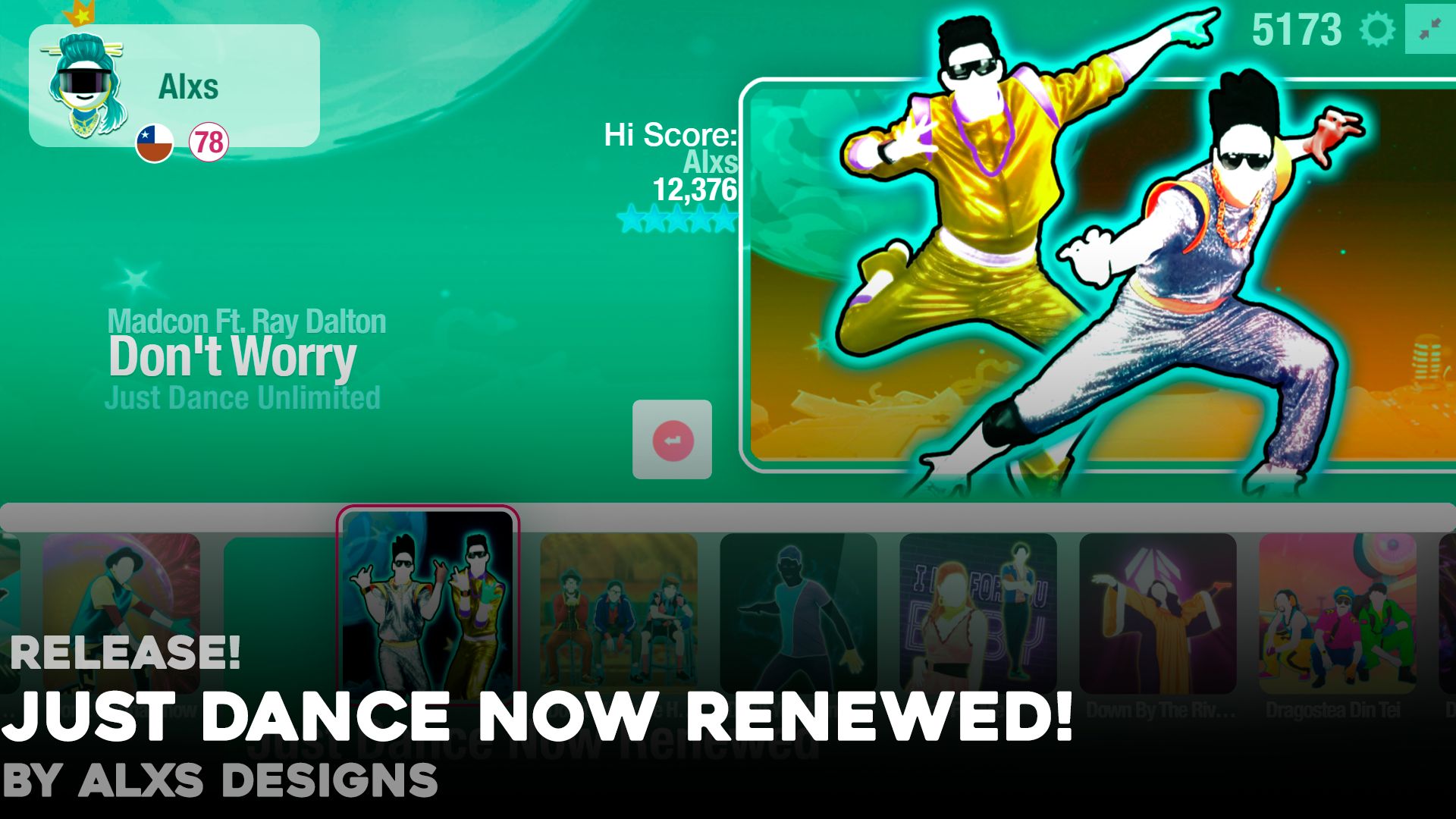 Details
Authoralxs
LicenseNo License
Created
Updated
Categoryjustdancenow just dance now
Statistics
Learn how we calculate statistics in the FAQ.
Total views
Total installs
Weekly installs
Notes
Userstyle doesn't have notes.
History
Daily snapshots of style statistics.
No style history. Come back in a couple of days.
Source code
/* ==UserStyle==
@name         Just Dance Now Renewed!
@version      20220329.22.01
@namespace    userstyles.world/user/alxs
@description  V0.5
@author       alxs
@license      No License
==/UserStyle== */

@-moz-document domain("justdancenow.com") {
.tabs--text, #players::before,  .controller-coins, .player-master, .state-songselection .player-color, .connect-phone-info.connect-phone-info--clickable.connect-phone-info--visible, .danceroom__qr-code-wrapper, .danceroom__label, .room-info__patch, #players.finding-dancers, #players.removing-dancers, .sprite, .coach::before, .state-coachselection .song-grid, .state-coachselection .song-details, .state-coachselection .song-action, .tutorial::before, .tutorial::after, .state-coachselection .highscore-display, .state-dance .avatar-wrapper, .state-dance .player-exp, .state-dance .player-flag, .caption.artist, .song-action__button::before, .song-action__button::after, .landing-circle, .landing__video, .landing-arrow.scroll_down, .landing-text__title, .landing-text__subtitle, .video-display::before, .logo, .songlist-container .song-grid--description, .song-grid--duration, .playlist-action__button, .line::after, .article::before, .exit-btn.exit-btn--play-again.exit-btn--animate, .account, .landing-patch, .dr-landing__icon-wrapper, .main-header, .coach-selection__button::after, .coach-selection__button::before, .modal__link.openIframe, .item .song__difficulty, .state-songselection .feedback, .account, .side-nav, .tabs--connect, .song__reward, .state-tutorial #players,.state-dance #room-info,.state-coachselection #room-info,.state-tutorial #room-info,.state-afterdance #room-info, .coach-selection::after, .state-coachselection #players, .song-grid--titleDetails, .state-dance .player-logo--vip,.state-afterdance #players,#afterdance::before,#afterdance .song-info,.item-selected .song__decoration::after,.trainer-icon, .item::after,.tutorial__image,.tutorial__caption, .songlist-container #players, .item-selected .title-container, .state-songselection .song-cover--low-res,.playlist--description
{
    display: none !important;
}


@font-face
{
    font-family: "JD Regular";
    src: url('https://dl.dropboxusercontent.com/s/94t0xj3f8dol172/HelveticaNeueLTW1G-65Md.woff?dl=0') format('woff') ;
}

@font-face
{
    font-family: "Just Dance Regular";
    src: url('https://dl.dropboxusercontent.com/s/94t0xj3f8dol172/HelveticaNeueLTW1G-65Md.woff?dl=0') format('woff') ;
}

@font-face 
{
    font-family: "Just Dance";
    src: url('https://dl.dropboxusercontent.com/s/tcjvag8iy02to2w/HelveticaNeueLTW1G-BdCn.woff?dl=0') format('woff');
    src: url('https://dl.dropboxusercontent.com/s/63qqnyfy9s1cl60/HelveticaNeueLTW1G-BdCn.woff2?dl=0') format('woff2');
}

@font-face{
    font-family:"helveticaneue-medium";
     src: url('https://dl.dropboxusercontent.com/s/sfkrh4w30jsznzl/HelveticaNeueMedium.woff?dl=0') format('woff')
}

.state-songselection #just-dance-now
{
	background: url(https://imgur.com/I9zfjPB.png);
	background-size: 100%;
}

.playlist-grid .playlist--title {
    display: block;
    font-size: 0.185rem;
    line-height: 0.23rem;
    color: #ffffff9e !important;
    font-family: Just Dance !important;
    letter-spacing: 0px;
}

.trainer-txt {
    float: left;
    width: 6rem;
    line-height: 0.215rem;
    color: #fff;
	font-family: Just Dance !important;
    font-size: 0.26rem;
    white-space: normal;
    padding: 0 0 0 0.1rem;
    letter-spacing: -0.5px;
	margin-left: -95%
}

ul.tabs
{
	background: rgba(0, 0, 0, 0);
	width: 100%;
    border-radius: 20px;
	position: absolute;
	top: -5%;
	left: 150%;

	transform: scale(0.7)
}

ul.tabs li {
    display: inline-block;
    cursor: pointer;
    width: 100%;
    text-align: center;
    padding: 0.15rem 0;
    position: relative;
}

ul.tabs li.selected::before {
    content: '';
    width: 100%;
	border-radius: 25px;
    height: 100%;
	transform: scale(0.8);
    background: #fe0374;
	border: 0px white solid;
    box-shadow: -12px 6px 10px #908f8f00;
    position: absolute;
    top: 0;
    left: 0;
}

#section-tabs
{
	left: -10%
}

ul.tabs li[section-id="songlist"]
{
    transform: translatey(-5%) translatex(-3%)
}

ul.tabs li[section-id="songlist"].selected
{
    transform: translatey(-5%) translatex(3%)
}

ul.tabs li[section-id="playlist"].selected .tabs--icon
{
    background-image: url(https://i.imgur.com/NYKo90L.png) !important;
}

ul.tabs li[section-id="playlist"] .tabs--icon
{
    background-image: url(https://i.imgur.com/NYKo90L.png) !important;
}

ul.tabs li[section-id="songlist"].selected .tabs--icon
{
    background-image: url(https://imgur.com/QXGxtDi.png);	
}

ul.tabs li[section-id="songlist"] .tabs--icon 
{
    background-image: url(https://imgur.com/QXGxtDi.png);
}

.toggles
{
	opacity: 0.5
}

#coverflow
{
	background: none !important;
}

#room-info
{
    background: #fff0;
    left: 84%;
    width: 10%;
	transform: scale(0.8) !important;
    border-radius: 15px;
    height:9.85% !important;
    min-height: 0% !important;
    top: -1%;
    opacity: 0.7;    
}

.danceroom__number
{
    text-shadow: none;
    color: #fff;
    font-size: 40%;
    text-align: right !important;
}

.coverflow--container
{
	height: 125%;
	width: 110%;
	top: -124%;
	left: -6%;
	background: transparent;
}

.section-grid-trainer .grid-img {
    background-image: url(https://imgur.com/QK1PbC6.png);
}

.section-grid-trainer .grid-img, .section-grid-trainer .grid-img--songlist {
    width: 1.8rem;
    height: 1.8rem;
	transform: scale(1.5);
	top: 20%;
	position: absolute;
    margin: 0 auto;
    background-repeat: no-repeat;
    background-size: contain;
	pointer-events: none !important
}

.video-preview
{
	opacity: 0
}

#preview .left-pane, .section-grid-trainer
{
	pointer-events: none !important;
}

.song-cover
{
	pointer-events: none;
	transform: scale(4.625);
	height: 60%;
    width: 100%;
    border-radius: 0px;
    border: 0px solid #fff;
    position: absolute;
    background-repeat: no-repeat;
    background-size: 100% !important;
	background-image: url(https://imgur.com/kBLsbQt.png);
	top:73%;
	z-index: -9999999999999 !important;
	left: -80.5%;
	transition: 0.5s all;
	transition-delay: 0.45s;
	opacity: 1;
	background-blend-mode: multiply !important;
	animation : appearuwuwu 2s ease-in-out
}

@keyframes appearuwuwu
{
	0%
	{
		background-image: url(https://imgur.com/JJbOiD3.png);
		opacity: 0
	}
	30%
	{
		background-image: url(https://imgur.com/JJbOiD3.png);
		opacity: 1		
	}
	100%
	{
		opacity: 1				
	}
}

.state-songselection .song-cover:before
{
    content: "";
    position: absolute;
    width: 60%;
    height: 115%;
    background-repeat: no-repeat;
    background-size: contain;
    top: -26%;
    left: 45.5%;
	transform: scale(0.65);
	z-index: 9999999 !important;
}

.song-cover:before
{
    height: 100%;
    width: 50%;
    content: "";
    top: 0%;
    left: 25%;
    position: absolute;
    background-size: contain;
    background-position: center !important;
    background-repeat: no-repeat !important;
	-webkit-mask-image:linear-gradient(0deg,rgba(153, 218, 255, 0) 15%,rgba(0,0,0,1) 20%) !important;	
}

.state-songselection .pre-beat.odd .song-cover:before
{
    animation: CoverBefore 0.6s ease-in-out !important
}

@keyframes CoverBefore
{
    0% 
    {
        transform: scale(0.64);
        -webkit-filter: brightness(130%);
        filter: brightness(140%);
    }

    100% 
    {
        transform: scale(0.65);
        -webkit-filter: brightness(100%);
        filter: brightness(100%);
    }
}

.state-songselection .pre-beat.even .song-cover:before
{
    animation: CoverBefore2 0.6s ease-in-out !important
}

@keyframes CoverBefore2
{
    0% 
    {
        transform: scale(0.64);
        -webkit-filter: brightness(130%);
        filter: brightness(130%);
    }

    100% 
    {
        transform: scale(0.65);
        -webkit-filter: brightness(100%);
        filter: brightness(100%);
    }
}

.song-cover:after
{
	font-family: Just Dance !important;
	font-size: 5%;
	color: #ffffff94;
	position: absolute;
    left: 7.2%;
	top: 43.7%;
	text-align: left !important;
}

.grid-container .item-container .song__cover,
.song--focused .song__cover,
.grid-container .item-container .item:hover .song__cover,
.grid-container .item-container .item.item-selected .song__cover,
.song__cover,
.song--focused .song__cover,
.playlist-grid .item-container .song__cover,
.song--focused .song__cover,
.playlist-grid .item-container .item:hover .song__cover,
.playlist-grid .item-container .item.item-selected .song__cover,
.song__cover,
.song--focused .song__cover{
    height: 100%;
    width: 100%;
	padding: 2%;
    border-radius: 15px !important;
	border: solid white 0px
}

.item-container .item.item-selected .song__cover {
    border-radius: 2px;
    border: solid #fe0374 3px !important; 
}

.item-container
{
	width: 100000% !important;
	height: 100% !important ;
	display: flex !important
}

.item
{
	left: 20em;
	top: 52%;
	margin-left: -5.2em !important;
	transform: scale(1.2);
	z-index: 9999;
	opacity: 0.6;
	padding-bottom: 0.4em;
	padding-right: 0.4em;
	transition: none !important;
}

.grid-container .item-container .title-container {
    font-family: "Just Dance";
    letter-spacing: -1px;
    font-size: 80%;
    line-height: inherit;
    color: #fff;
    float: none;
    padding: 0.05rem 0 0 0.04rem;
}
.item-container, .song--details
    {
        scroll-snap-type: x mandatory !important;
				scroll-padding: 27%;
    }
    .item-selected
    {
        scroll-snap-align: start !important;
		opacity: 1;
		transform: scale(1.35);
		top: 50%;
		padding-bottom: 0em;
		margin-left: 0.2em !important;
		-webkit-mask-image: none;
		pointer-events: none;
		position: absolute;
		animation: selecteditem 0.3s;
    }

@keyframes selecteditem
{
	0%{
		top: 52%;
		transform: scale(1.3);
	}
}

@keyframes flashbeat
{
	0%
	{filter: brightness(130%)}
}


.item-selected .song__decoration
{
		    box-shadow: -0px 0px 50px #00000054;
	border-radius: 15px !important;
}

.song--details
{
    width: 104%;
    height: 82%;
    margin-top: 0.5rem;
    padding-bottom: 0.05rem;
    overflow-y: hidden;
    scroll-behavior: smooth;
    position: absolute;
    left: -3%;
    right: -17px;	
}

.songlist-container
{
    width: 160%;
    height: 100%;
    overflow-y: hidden;	
}

#preview .song-details
{
    width: 128%;
    overflow: hidden;
    padding: 0.06rem 0.1rem 0.4rem;
    background-image: linear-gradient(to right, #f61c9700, #f8892000);
    border-radius: 10px;
    position: absolute;
	height: 40%;
    top: 2rem;
	z-index: 999999999 !important;
	transform: scale(1.2);
    left: -4.8em;	
}

.song-detail__title
{
	font-family: Just Dance !important;
	color: #fff !important;
	font-size: 30% !important;
	transform: scale(1.1);
	margin-left: 5%;
	height: 100% !important;
	margin-top: 8% !important;
	position: absolute
}

.song-detail__artist
{
	font-family: Just Dance !important;
	color: #ffffffab !important;
	margin-top: 3.5% !important;
	font-size: 20% !important;
	position: absolute;
}

.song-action:before
{
	content: "";
    position: absolute !important;
    width: 20%;
    height: 60%;
	transform: scale(1.3);
	pointer-events: none !important;
    background-image: url(https://imgur.com/9FkbES7.png);
    background-size: 60%;
    background-repeat: no-repeat;
    left: -150%;
	z-index: 9999999;
    opacity: 1 !important;
    top: -10%
}

.song-action__button, .playlist-action__button
{
    left: -163%;
    background: #ffffffe6!important;
    top: -60%;
    font-family: Just Dance Regular !important;
    transform: scale(0.8);
    text-transform: uppercase;
    font-size: 15%;
    width: 30%;
    height: 140%;
    border-radius: 10px;
		color: #fe037400
}

.song-grid--details .song-grid--close {
    width: 0.265rem !important;
    height: 0.265rem !important;
	border-radius: 50% !important;
    cursor: pointer !important;
    transition: all 0.1s !important;
    background-color: #fe0374 !important;
	background-image: url(https://imgur.com/IejGTbS.png) !important;
    background-repeat: no-repeat !important;
    background-size: cover !important;
    position: absolute !important;
	top: 35% !important;
    right: 47% !important;
	border: solid white 0px !important;
	transform: scale(0.7) !important;
	animation: none !important;
	z-index: 9999999;
}

.song-grid--close:after
{
	content: "back";
	color: #fff;
	position: absolute;
	margin-top: 10%;
	font-family: Just Dance Regular !important;
	margin-left: 120% !important;
	font-size: 120%;
}

.highscore-display
{
    left: -47%;
    top: -150% !important;
	transform: scale(0.9);
	z-index: 99999999!important;
}

.highscore-display::before
{
    content: "Hi Score:";
    color: #fff !important;
    top: 190% !important;
	text-align: end !important;
    height: 190%;
    left: 120% !important;
    width: 100%;
    transform: scale(0.5);
    background: linear-gradient(315deg, #ac37ff00 0%, #ffde9d00 100%) !important;
    border-radius: 0px;
        font-family: Just Dance regular !important;
}

.score__number
{
    font-family: Just Dance !important;
        color: #fff !important;
        top:40%;
		background-color: #fff0;
			border-radius: 15px;
			width:800%;
	left:27%
}

.owner-name
{
	color: #ffffffab;
	font-family: Just Dance !important;
	transform: scale(1.5);
	text-align: end;
	margin-left: -72%;
	margin-top: -40% !important
}

.score__owner span {
    display: inline-block;
    width: 100%;
    opacity: 0;
    transition: all 500ms;
    padding-left: 0.25rem;
	padding-bottom: 10%;
}

.score__display
{
    font-family: Just Dance Regular !important
}

.score__stars
{
    top: 125%;
    left: 15%;
    transform: scale(1.2);
	animation: flashbeat 1s infinite
}

.score__stars .star.star-1
{
    animation: StarBeatScore 1.1s infinite;
    animation-delay: 0.2s;
}

.score__stars .star.star-2
{
    animation: StarBeatScore 1.1s infinite;
    animation-delay: 0.4s;
}

.score__stars .star.star-3
{
    animation: StarBeatScore 1.1s infinite;
    animation-delay: 0.6s
}

.score__stars .star.star-4
{
    animation: StarBeatScore 1.1s infinite;
    animation-delay: 0.8s
}

.score__stars .star.star-5
{
    animation: StarBeatScore 1.1s infinite;
    animation-delay: 1s
}

@keyframes StarBeatScore
{
    0%
    {
        transform: scale(1.0) rotate(-12deg)
    }
    
    10%
    {
        transform: scale(1.2) rotate(-12deg)
    }
    
    20%
    {
        transform: scale(1.0) rotate(-12deg)
    }
    
    100%
    {
        transform: scale(1.0) rotate(-12deg)
    }
}

.state-songselection #players
{
    background: #ffffff91 !important;
    top: 3%;
    left: 2%;
    width: 20%;
    height: 15%;
    border-radius: 20px	
}

.state-songselection .avatar-wrapper {
    animation: none !important;
    height: 340%;
	top: 0%;
	left: -10%;
	background-size: 110%;
	background-repeat: no-repeat;
	transform: scale(1.1);
}

.state-songselection .dancercard .player-flag
{
    width: 0.22rem;
    height: 0.2rem;
    overflow: hidden;
    position: absolute;
    top: 0.65rem;
    right: 35%;
	transform: scale(1.4);
	z-index: 99999;
}

.state-songselection .dancercard .player-flag__image
{
    border: 2px solid #fff;
    border-radius: 50%;
    background-image: attr(data-flag-url);
    background-repeat: no-repeat;
    background-position: center;
    background-size: cover;	
}

.state-songselection .dancercard .player-exp.player-exp-normal {
	border-radius: 100px;
	background: #fff;
	border: #fe0374 solid 1px;
	font-family: Just Dance;
	font-size: 130%;
    background-repeat: no-repeat;
    background-size: 100% !important;
	position: absolute;
	z-index: 9999;
	transform: scale(1.3);
}

.state-songselection .dancercard .player-exp {
    color: #fe0374;
    height: 0.22rem;
    width: 0.22rem;
    display: inline-block;
    position: absolute;
    bottom: -145%;
    right: 7%;
}

.state-songselection .dancercard .player-name {
    width: 90%;
    height: 0.3rem;
    text-align: left;
    text-shadow: 0 0 0.005rem #0000, 0 0.005rem 0.005rem rgba(0, 0, 0, 0);
    font-size: 0.25rem;
    font-family: "Just Dance";
    letter-spacing: 0px;
    position: absolute;
    z-index: 2;
    bottom: -50%;
	left: 55%;
	color: #0000008a
}

.playlist-grid-container
{
    width: 100% !important;
    position: absolute;
	top: 65%;
	left: 10%;
	height: 20% !important;
    display: flex;
  grid-template-columns: 30% 30% 30%;
  grid-gap: 3.36%;
    padding-left: 1%;
}

.playlist-grid .playlist--img {
    width: 2.8rem;
    height: 100%;
    display: block;
    float: left;
	border-radius: 15px;
	padding: 0;
	border: solid 5px #fff;
}

::-webkit-scrollbar
{
	display: none
}

/*coach selection*/

.state-coachselection #just-dance-now
{
	background: #000;
}

.state-coachselection .coverflow--container
{
    display: block !important;
    visibility: visible !important;
    z-index: 10 !important;
    opacity: 1 !important;
    left: 0%;
    top: -25%;
    height: 125%;
		pointer-events: none !important
}

.state-coachselection .player__name
{
    text-shadow: none !important;
}

.state-coachselection .song-details
{
    top: -120%;
    left: -60%
}

.coach__names-list 
{
    left: 90%;
    bottom: -10% !important;
    transform: scale(1.1) translatey(30%);
    font-family: Just Dance;
    color: #fff !important;
    height: 150%
}


.coach__img 
{
    height: 120%;
    left: -30%;
	top: -10%;
	z-index: -999999;
}

.coach-selection__title {
    text-align: center;
    font-size: 23%;
    font-family: "Just Dance Regular";
    color: #fff;
    width: 80;
    position: center;
    top: 10;
    left: 7.5%;
}
.coach__names-list 
{
    left: 90%;
    bottom: -10% !important;
    transform: scale(1.1) translatey(30%);
    font-family: Just Dance;
    color: #fff !important;
    height: 150%
}
    
.coach__player-list
{
    background: linear-gradient(#4209ff 68%, #fff 0%) !important;
    opacity: 1;
    border-radius: 0.6em;
    height: 16%;
    padding-top: 3.8%;
    margin-bottom: 6%;
    padding-left: 3%;
    width: 90%;
    font-size: 90%
}

.coach-selection__details
{
    background: #ffffff63 !important;
    border-radius: 10px;
    left: 7%;
    width: 20% !important;
    height: 10%;
	z-index: 999999;
    transform: scale(1.6);
    min-width: 0;;
    top: 98%;
}

.coach-selection__list.coach-selection__list--2 [data-id="1"]
{
    left: -19%   
}

.coach-selection__list.coach-selection__list--2 [data-id="2"]
{
    left: 5%   
}


.coach-selection__details-song
{
    color: #fff;
    font-family: Just Dance;
    font-size: 14% !important;
    transform: translatex(20%) translatey(100%);
    -webkit-mask-image: linear-gradient(90deg, rgb(0, 0, 0) 0%, rgb(0, 0, 0) 80%, #f000  85%, #f000 100%) !important;
}

.coach-selection__details-artist
{
    color: #ffffff94 !important;
    transform: translatex(20%) translatey(-70%);
    font-family: Just Dance !important;
    -webkit-mask-image: linear-gradient(90deg, rgb(0, 0, 0) 0%, rgb(0, 0, 0) 80%, #f000  85%, #f000 100%) !important;
    font-size: 11% !important;
}

.coach-selection__back
{
    top: 8%;
    left: 1%;
    transform: scale(0.78);
	background-color: #ffffff9e;
	border: 2px white solid;
	border-radius: 12px;
    background-image: url(https://imgur.com/IejGTbS.png) !important;
        z-index: -9 !important;
}
.coach-selection__back:hover
{
    transform: scale(0.78)
}


.coach-selection__back::before
{
    content: "Back" !important;
    font-family: JD Regular;
    color: #fff !important;
    position: fixed !important;
    font-size: 20%;
    transform: translatex(80%) translatey(20%)
}

.coach-selection
{
    top: 2%;
    height: 85%;
    background-image: none !important;
    background: none !important;
    border: none !important
}

.coach-selection::after
{
    display: none;
    border: none
}

.coach-selection__bgImg
{
    height: 130%;
    width: 105%;
    top: -10%;
    left: -2%;
	opacity: 1;
    transform: scale(1.0);
    background-size: 0% !important;
    border-radius: 10px;
	filter: blur(0.05em);
    border: none !important;
    background: #fff;
	-webkit-mask-image: linear-gradient(180deg,black 50%,rgba(0, 0, 0, .45)100%)
}

.coach-selection__bgImg img
{
    height: 100%;
    border: none !important
}

.coach-selection__button
{
    transform: translatey(120%) translatex(20%) !important;
    background: #ffffff63;
    width: 25%;
    border-radius: 100px;
    font-family: JD Regular !important;
	text-align: start !important;
	font-size: 18%;
    backdrop-filter: blur(0.3em) brightness(120%)!important;
    height: 8.5%;
    text-transform: uppercase
}
.state-coachselection #just-dance-now::before
{
  content: '';
  position: absolute;
  opacity: 1;
  height: 160%;
  width: 0.12%;
  left: 50%;
  bottom: -60%;
  background-image: linear-gradient(transparent,#ffffff7d,transparent);
  transform: rotate(90deg);
    z-index: 999999999999999999999 !important
}

.state-coachselection #just-dance-now::after{
    content: 'Ready?';
    text-align: start;
	font-size: 50%;
    position: absolute;
    color: #ffffffb3;
	font-family: Just Dance !important;
    opacity: 1;
    height: 0.22%;
    width: 60%;
    left: 0%;
    bottom: 80%;
    
    background-image: linear-gradient(90deg,#fff,#ffffff7d,#fff0);
    z-index: 999 !important
}


.coach-selection__back,
.coach-selection__button,
.coach-selection__list,
.coach-selection__title,
.state-coachselection #just-dance-now::before,
.state-coachselection #just-dance-now::after{
    animation: Movecoach 3.3s !important;
    z-index: 9999999999999999999999999999 !important
}
.state-coachselection .song-cover--low-res
{
    z-index: 9999 !important;
    width: 100% !important;
    height: 100% !important;
    top: 149%!important;
    left: -310%!important;
    transform: scale(0.3);
	border-radius: 35px !important;
    padding: 0% !important;
	animation: none !important
}

@keyframes Movecoach {
    0% {

        opacity: 0
    }

    15% {
        opacity: 0
    }

    90% {
			filter: brightness(150%);
        opacity: 0
    }

    100% {
		filter: brightness(100%);
        opacity: 1
    }
}
.state-coachselection .song-cover
{
    top: 10%;
    left: -10%
}



.state-coachselection .song-cover--hi-res:before
{
    content: "";
    position: absolute;
    width: 100%;
    height: 25%;
	transform: scale(9);
    background-repeat: no-repeat;
    background-size: contain;
    top: 13%;
    left: -10%;
    image-rendering: high-quality !important;
    z-index: 999 !important;
    opacity:0;
	-webkit-mask-image: none !important;
}

.state-coachselection .song-cover--hi-res
{
    background: url(https://imgur.com/BrLS1hR.png) no-repeat;
	border-radius: 15px;
    border: white 1px solid !important;
    left: -90%;
    width: 60%;
    height: 20%;
    top:90%;
	opacity: 0;
}

.state-coachselection .song-cover--hi-res::before
{
    animation: CoverInKey 2.2s !important;
}

@keyframes CoverInKey
{
    0%
    {
        left: -20%;
        opacity: 0
    }
    
    20%
    {
        opacity: 1;
    }
    
    40%
    {
        left: -5%
    }
    
    90%
    {
        opacity: 1
    }
    
    100%
    {
        left: -5%;
        opacity: 0
    }
	
}

.state-coachselection .song-cover--hi-res
{
    animation: CoverInKey2 2.2s !important;
}

@keyframes CoverInKey2
{
    0%
    {
        opacity: 0
    }
    
    20%
    {
        opacity: 1;
    }
    
    40%
    {
		opacity: 1
    }
    
    90%
    {
        opacity: 1
    }
    
    100%
    {
        opacity: 0
    }
	
}

 .state-coachselection .song-grid, .state-coachselection .song-cover:after, .state-coachselection .song-details, .state-coachselection .highscore-display, .coach-selection__button:before, .coach-selection__button:after, .state-coachselection .video-preview
{
    display: none !important
}

/*feedback uwu*/
	
.state-dance #just-dance-now
{
    background: black !important;
    transition: background 0.6s !important
}

#lyrics .line.previous {
    -webkit-transform: perspective(0px) translateY(0em) rotateX(0deg);
    transform: perspective(0px) translateY(0em) rotateX(0deg);
}

#lyrics .line.current {
    transform: translatey(-30%) translatex(-2%);
    transition: .2s all !important
}

#lyrics .line.previous {
    transform: translatey(-30%) translatex(-2%) !important;
    transition: .2s all !important
}

#lyrics .line {
    -webkit-animation: nextLineInf 0.3s;
    animation: nextLineInf 0.3s;
    color: #8f8c89;
}

@-webkit-keyframes nextLineInf {
    0%,
    20% {
        opacity: 0;
        -webkit-transform: perspective(0px) translateY(1em) rotateX(0deg);
        transform: perspective(0px) translateY(1em) rotateX(0deg);
    }
    100% {
        opacity: 1;
        -webkit-transform: translateY(1em) perspective(0px) rotateX(0deg);
        transform: translateY(1em) perspective(0px) rotateX(0deg);
    }
}
@keyframes nextLineInf {
    0%,
    20% {
        opacity: 0;
        -webkit-transform: perspective(0px) translateY(2.5em) rotateX(0deg) translatex(0.5em);
        transform: perspective(0px) translateY(2.5em) rotateX(0deg) translatex(0.5em);
    }
    100% {
        opacity: 1;
        -webkit-transform: translateY(1em) perspective(0px) rotateX(0deg) translatex(0em);
        transform: translateY(1em) perspective(0px) rotateX(0deg) translatex(0em);
    }
}

#lyrics {
    transform: scale(0.9);
    left: 5%;
    top: 89.1%;
    z-index: 99999999999999999999999999999 !important
}

.state-dance #just-dance-now::before
{
  content: '';
  position: absolute;
  opacity: 1;
  height: 100%;
  width: 0.12%;
  left: 11%;
  bottom: -88.8%;
  background-color: white;
  transform: skew(12deg);
    z-index: 999999999999999999999 !important
}

.fragment .fill
{
    backdrop-filter: opacity(0) !important
}

.crown {
        top: 20% !important;
        left: -20% !important;
    transform: scale(1.4) rotate(-12deg) !important;
    z-index: -99999 !important
    }

.crown::before {
        background-image: url(https://dl.dropbox.com/s/bdp90adcd1g3wv0/GlowCrownBack.png?dl=0)!important;
    }
    .crown {
        background-image: url(https://dl.dropbox.com/s/5ngpj74og27e6r2/PurpleCrownHUD.png?dl=0)!important;
    }
    #players .crown::before {
        -webkit-animation: CrownZoom 1s infinite !important;
        animation: Corona 1s infinite alternate;
        background-image: none!important;
        background-color: transparent!important;
        border: none;
}

.hud.beat > #players.animate .crown {
    animation: CrownBeat 0.5s !important
}

@keyframes CrownBeat
{
    0%
    {
        transform: scale(1.33) rotate(-12deg);
    }
    
    100%
    {
        transform: scale(1.4) rotate(-12deg);
    }
}


.hud.beat > #players.animate .player-stars .star:not(.no-beat)::before {
    animation: none !important
}

@keyframes racetrack-star-beat
{
  0%
  {
    transform: scale(1) rotate(13deg);
  }

  15%
  {
    transform: scale(0.93) rotate(13deg);
  }

  80%
  {
    transform: scale(1) rotate(13deg);
  }

  100%
  {
    transform: scale(1) rotate(13deg);
  }
}

html:not(.ipad) .hud.beat>#pictos>#beat
{
  -webkit-animation-name: pictoOut !important;
  animation-name: pictoOut !important;
}

@keyframes pictoOut
{
  0%
  {
    background-size: 100% 100%;
    filter: brightness(250%);
    opacity: 1;
  }

  5%
  {
    filter: brightness(100%);
  }

  100%
  {
    background-size: 100% 0%;
    opacity: 0;
    filter: brightness(100%);
  }
}

#beat .particle-system
{
  display: none;
    opacity: 0
}

#beat {
    width: 45% !important;
    height: 13% !important;
    bottom: -3.5% !important;
    left: -48%;
    background-image: url(https://imgur.com/Cl28TvJ.png);
    background-size: 100% 100% !important;
    background-position: center !important;
    border-bottom: none;
    opacity: 1 !important;
}

html:not(.ipad) .hud.beat>#pictos>#beat
{
  -webkit-animation-name: BeatCoach !important;
  animation-name: BeatCoach !important;
}

#pictos {
    width: 18.9% !important;
    top: 69.4%
}
#pictos.multi-coach {
    width: 26%!important;
    top: 69.4%
}

#pictos.multi-coach #beat {
    width: 35% !important;
    left: -40%;
}
.picto {
    left: -60% !important;
}
.multi-coach .picto {
    left: -57%!important;
}

@keyframes BeatCoach {
    100% {
        opacity: 1;
        transform: scale(1.0, 1.0);
    }
    
    
    10% {
        opacity: 1;
        transform: scale(1.08, 1.0);
    }

    00% {
        opacity: 1;
        transform: scale(1.0, 1.0);
    }
}

#racetrack
{
    top: 22.5% !important;
    left: 1% !important
}

#racetrack .progress-bar {
        right: 0%;
        width: 35%;
    border: solid 0px !important
    }

#racetrack .platform {
    background-color: rgba(255,255,255,0.9);
    z-index: 2;
    bottom: -.2%;
	width: 200%
}

#racetrack .star3,
    #racetrack .star2,
    #racetrack .star1 {
        margin-bottom: -2%;
    }

    #racetrack .star3 {
        bottom: 40%;
    }

    #racetrack .star2 {
        bottom: 24%;
    }

    #racetrack .star1 {
        bottom: 8%;
    }

    #racetrack .star {
        left: 23%;
        width: 0.55rem;
        height: 0.55rem;
    }

    #racetrack {
        top: 18.3%;
        left: -1%;
        width: 7.2%;
        height: 55.2%;
    }

#racetrack .star
{
    transform: scale(1) rotate(13deg) !important;
    left: 10%
}

@keyframes racetrack-star-beat
{
    0%
    {
        transform:scale(1) rotate(13deg)
    }
    
    15%
    {
        transform:scale(0.95) rotate(13deg)
    }
    
    80%
    {
        transform:scale(1) rotate(13deg)
    }
    
    100%
    {
        transform:scale(1) rotate(13deg)
    }
}


#racetrack-fill-p1 {
    transition: .3s all !important
}

#racetrack-fill-p2 {
    transition: .3s all !important
}

#racetrack-fill-p3 {
    transition: .3s all !important
}

#racetrack-fill-p4 {
    transition: .3s all !important
}

.racetrack-fill-players
{
  border-radius: 1px;
}

#racetrack .progress-bar
{
  border-bottom: 6px solid #daf3f08c;
  border-radius: 0 0 0px 0px;
}



.state-tutorial #just-dance-now:before, .state-dance #just-dance-now:before
{
    content: "";
    display: block !important;
    position: absolute !important;
    background: url(https://imgur.com/2NTYlzZ.png), url(https://imgur.com/PPxry6L.png), url(https://imgur.com/wQWhfxE.png), url(https://imgur.com/BAd7dF3.png), url(https://imgur.com/8PoWxuv.png), url(https://imgur.com/X4ZxSOl.png), url(https://imgur.com/Hwa0FOe.png), url(https://imgur.com/RZbmUQe.png), url(https://imgur.com/xYnfnol.png);
    top: 0%;
    left: -1110% !important;
    width: 100%;
    height: 100%;
    z-index: 999999 !important
}

.hud.beat #players .feedback-label {
    background-repeat: no-repeat;
    background-image: url(https://i.imgur.com/qEwdh7z.png);
}

.feedback
{
    width: 55% !important;
    left: 10% !important;
    height: 140% !important;
    top: -60% !important;
    overflow: visible !important;
    animation: none !important;
    opacity: 1 !important
}

.feedback-label
{
    opacity: 1 !important;
    animation: none !important
}

.feedback-good
{
    width: 50% !important;
    left: 24% !important;
}

.feedback-ok
{
    width: 40% !important;
    left: 29.5% !important;
}

.feedback-yeah
{
    width: 85.5% !important;
    left: 7% !important;
}


.feedback-label.feedlabel-badgold {
    top: 20% !important
}

.feedback-label.feedlabel-good {
    top: 14%!important;
    left: 0.5%
}

.feedback-label.feedlabel-bad {
    top: 11% !important;
}

.feedback-label.feedlabel-ok {
    top: 28% !important;
    left: 0%
}
.feedback-label.feedlabel-yeah
{
    top: 20% !important;
    left: -1% !important
}

.feedback-label.feedlabel-perfect
{
    top: 15% !important;
    left: 0%
}

.feedback
{
    background: none !important
}

#players .feedback-ok {
    background: url(https://imgur.com/xYnfnol.png) no-repeat top/ 100% 100%;
    height: 160%;
}

#players .feedback-yeah {
    background: url(https://imgur.com/X4ZxSOl.png) no-repeat top/ 100% 100%;
    height: 160%;
}

#players .feedback-bad,
#players .feedback-badgold {
    background: none !important;
    height: 140%;
}

#players .feedback-perfect {
    left: 21.5% !important;
}

.feedback-perfect:before
{
    content: "";
    position: absolute;
    width: 100%;
    height: 100%;
    top: 13%;
    left: 0%;
    background: url(https://imgur.com/2NTYlzZ.png) no-repeat top/ 100% 100%;
    animation: feedback 0.7s;
    opacity: 0
}

.feedback-perfect:after
{
    content: "";
    position: absolute;
    width: 280%;
    height: 120%;
    top: 23%;
    left: -95%;
    background-image: url(https://imgur.com/PPxry6L.png);
    background-size: contain;
    background-position: center;
    background-repeat: no-repeat;
    animation: CrossSPerfect2 0.7s !important;
    opacity: 0
}


.feedlabel-perfect:before
{
    content: "";
    position: absolute;
    width: 100%;
    height: 100%;
    top:10%;
    left: 0%;
    background-image: url(https://imgur.com/w1j05Dc.png);
    background-size: contain;
    background-repeat: no-repeat;
    background-position: center;
    animation: feedlabelp 0.7s !important;
    opacity: 0
}

.feedlabel-perfect:after
{
    content: "";
    position: absolute;
    width: 210%;
    height: 210%;
    top: -50%;
    left: -55%;
    background-image: url(https://imgur.com/wQWhfxE.png);
    background-size: contain;
    background-repeat: no-repeat;
    background-position: center;
    animation: CrossSPerfect 0.7s ;
    z-index: -1 !important;
    opacity: 0
}

@keyframes CrossSPerfect
{
    0%
    {
        filter: brightness(100%);
        opacity: 0.5;
        transform: scale(0.7);
    }
    
    3%
    {
        filter: brightness(100%);
        opacity: 1;
        transform: scale(1.5);
    }
    
    10%
    {
        filter: brightness(100%);
        opacity: 1;
        transform: scale(0.7);
    }
    
    23%
    {
        filter: brightness(100%);
        opacity: 1;
        transform: scale(1.1);
    }
    
    3%
    {
        filter: brightness(100%);
        opacity: 1;
        transform: scale(1);
    }
    
    100%
    {
        filter: brightness(100%);
        opacity: 0;
    }
}

@keyframes CrossSPerfect2
{
    0%
    {
        filter: brightness(100%);
        opacity: 0.5;
        transform: scale(0.3);
    }
    
    3%
    {
        filter: brightness(180%);
        opacity: 1;
        transform: scale(1);
    }
    
    100%
    {
        filter: brightness(100%);
        opacity: 0;
    }
}

@keyframes feedlabelp {
    0% {
        opacity: 0;
        -webkit-transform: scale3d(1, 1, 1);
        transform: scale3d(1, 1, 1)
    }
    15% {
        opacity: 1;
        -webkit-transform: scale3d(0.8, 0.8, 1);
        transform: scale3d(1.2, 1.2, 1.2)
    }
    24% {
        -webkit-transform: scale3d(1, 1, 1);
        transform: scale3d(1, 1, 1)
    }
    
    30% {
        opacity: 1;
        -webkit-transform: scale3d(0.8, 0.8, 1);
        transform: scale3d(1.1, 1.1, 1.1)
    }
    
    43% {
        opacity: 1;
        -webkit-transform: translate3d(0, 0, 0);
        transform: translate3d(0, 0, 0)
    }
    100% {
        opacity: 0;
        -webkit-transform: translate3d(0, 5px, 0) scale3d(0.95, 0.95, 1);
        transform: translate3d(0, 0, 0) scale3d(0.95, 0.95, 1)
    }
}

/*---Good---*/

.feedback-good:before
{
    content: "";
    position: absolute;
    width: 100%;
    height: 100%;
    top: 13%;
    left: 0%;
    background: url(https://imgur.com/BAd7dF3.png) no-repeat top/ 100% 100%;
    animation: feedback 0.7s;
    opacity: 0
}

.feedback-good:after
{
    content: "";
    position: absolute;
    width: 210%;
    height: 210%;
    top: -20%;
    left: -55%;
    background-image: url(https://imgur.com/8PoWxuv.png);
    background-size: contain;
    background-repeat: no-repeat;
    background-position: center;
    animation: feedback 0.7s ;
    z-index: -1 !important;
    opacity: 0
}

.feedlabel-good:before
{
    content: "";
    position: absolute;
    width: 100%;
    height: 100%;
    top: 5%;
    left: 0%;
    background-image: url(https://imgur.com/jGNnEeJ.png);
    background-size: contain;
    background-repeat: no-repeat;
    background-position: center;
    animation: feedlabel 0.7s !important;
    opacity: 0
}

/*---Ok---*/

.feedback-ok:before
{
    content: "";
    position: absolute;
    width: 100%;
    height: 100%;
    top: 13%;
    left: 0%;
    background: url(https://imgur.com/xYnfnol.png) no-repeat top/ 100% 100%;
    animation: feedback 0.7s;
    opacity: 0
}

.feedlabel-ok:before
{
    content: "";
    position: absolute;
    width: 100%;
    height: 70%;
    top: 5%;
    left: 0%;
    background-image: url(https://imgur.com/3ASIuop.png);
    background-size: contain;
    background-repeat: no-repeat;
    background-position: center;
    animation: feedlabel 0.7s !important;
    opacity: 0
}

/*---Bad---*/

.feedlabel-bad:before
{
    content: "";
    position: absolute;
    width: 100%;
    height: 70%;
    top: 30%;
    left: 0%;
    background-image: url(https://imgur.com/DtBHQLU.png);
    background-size: contain;
    background-repeat: no-repeat;
    background-position: center;
    animation: feedlabel 0.7s !important;
    opacity: 0
}

.feedlabel-badgold:before
{
    content: "";
    position: absolute;
    width: 100%;
    height: 70%;
    top: 18%;
    left: 0%;
    background-image: url(https://imgur.com/dwQKSWE.png);
    background-size: contain;
    background-repeat: no-repeat;
    background-position: center;
    animation: feedlabel 0.7s !important;
    opacity: 0
}

/*---Yeah---*/

.feedback-yeah:before
{
    content: "";
    position: absolute;
    width: 100%;
    height: 100%;
    top: 13%;
    left: 0%;
    background: url(https://imgur.com/X4ZxSOl.png) no-repeat top/ 100% 100%;
    animation: feedback 0.7s;
    opacity: 0
}

.feedback-yeah:after
{
    content: "";
    position: absolute;
    width: 280%;
    height: 120%;
    top: 23%;
    left: -95%;
    background-image: url(https://imgur.com/Hwa0FOe.png);
    background-size: contain;
    background-position: center;
    background-repeat: no-repeat;
    animation: CrossSPerfect2 0.7s !important;
    opacity: 0
}

.feedlabel-yeah:before
{
    content: "";
    position: absolute;
    width: 150%;
    height: 150%;
    top: -20%;
    left: -25%;
    background-image: url(https://imgur.com/bLna99C.png);
    background-size: contain;
    background-repeat: no-repeat;
    background-position: center;
    animation: feedlabely 0.7s !important;
    opacity: 0
}

.feedlabel-yeah:after
{
    content: "";
    position: absolute;
    width: 210%;
    height: 210%;
    top: -50%;
    left: -55%;
    background-image: url(https://imgur.com/RZbmUQe.png);
    background-size: contain;
    background-repeat: no-repeat;
    background-position: center;
    animation: GoldParticleBounce 0.7s;
    z-index: -1 !important;
    opacity: 0;
    filter: blur(0.02em);
    transform: scale(1.4)
}

@keyframes GoldParticleBounce
{
    0%
    {
        transform: scale(1);
        top: -50%
    }
    
    20%
    {
        top: -50%;
        transform: scale(1.4);
        opacity: 0.4
    }
    
    60%
    {
        opacity: 0.4
    }
    
    100%
    {
        top: -45%;
        opacity: 0
    }
}

/*---End---*/

.feedback-label
{
    background: none !important;
    overflow: visible !important
}


@keyframes feedback {
    0% {
        opacity: 0;
        transform: scale3d(0.2, 1, 0.96)
    }
    10% {
        opacity: 1;
        -webkit-transform: scale3d(1, 1, 1);
        transform: scale3d(1.2, 1, 1)
    }
    100% {
        opacity: 0;
        -webkit-transform: scale3d(1, 1, 1);
        transform: scale3d(1, 1, 0.96)
    }
}

@keyframes feedlabel {
    0% {
        opacity: 0;
        -webkit-transform: scale3d(1, 1, 1);
        transform: scale3d(1, 1, 1)
    }
    10% {
        opacity: 1;
        -webkit-transform: scale3d(0.8, 0.8, 1);
        transform: scale3d(1.1, 1.1, 1.1)
    }
    36% {
        opacity: 1
    }
    43% {
        -webkit-transform: translate3d(0, 0, 0);
        transform: translate3d(0, 0, 0)
    }
    
    100% {
        opacity: 0;
        -webkit-transform: translate3d(0, 0, 0) scale3d(0.95, 0.95, 1);
        transform: translate3d(0, 0, 0) scale3d(0.97, 0.97, 1)
    }
}

@keyframes feedlabely {
    0% {
        opacity: 0;
        -webkit-transform: scale3d(1, 1, 1);
        transform: scale3d(0.9, 0.9, 0.9)
    }
    15% {
        opacity: 1;
        -webkit-transform: scale3d(0.8, 0.8, 1);
        transform: scale3d(1.2, 1.2, 1.2)
    }
    36% {
        opacity: 1
    }

    100% {
        opacity: 0;
        -webkit-transform: translate3d(0, 0, 0) scale3d(0.95, 0.95, 1);
        transform: translate3d(0, 0, 0) scale3d(1.2, 1.2, 1.2)
    }
}

.player-special
{
    top: 35% !important
}

.state-dance #players
{
    left: 10% !important;
    width: 80% !important;
    overflow: visible !important;
    top: 3%
}

.player
{
    overflow: visible !important
}

.state-dance .player-color
{
    width: 81.6% !important;
    height: 20% !important;
    left: -2%;
	top:-10%
}

.state-dance .dancercard
{
    margin-right: 150% !important
}

.state-dance .dancercard .player-name
{
    top: -1.05em;
    left: -10% !important;
    width: 120% !important;
    height: 110% !important;
    text-align: center !important;
    text-shadow: none !important;
    font-family: Just Dance;
    letter-spacing: .01em;
    font-size: 100%;
    text-overflow: ellipsis !important;
}

.state-dance .player-name em
{
    text-align: center !important;
    width: 100% !important;
    max-width: 100% !important;
    left: 0% !important;
		transform:scale(0.6)
}

.state-dance .dancercard .player-name em {
  text-shadow: 0.03em 0.03em 0.01em rgba(0, 0, 0, 0.3)!important;
    width: 150%;
    text-align: center !important;
    padding: 0%;

}

.state-dance #players .player:nth-child(2)
{
    left: 32%
}

.state-dance #players .player:nth-child(3)
{
    left: 55%
}

.state-dance #players .player:nth-child(4)
{
    left: 79%
}

html:not(.ipad) .hud.beat > #players.animate .player-color 
{
    animation: none !important;
}

#players .stars {
    margin-top:-5% !important;
    transform: scale(0.6) !important;
    left: -23% !important
}

.state-dance .dancercard .player-name
{
    top: -110%;
    left: 7.5% !important;
    width: 85.5% !important;
    text-align: center !important;
    text-shadow: none !important;
    font-family: Just Dance!important;
    transform: scale(1.8) !important;
    letter-spacing: .1px
}

.state-dance .dancercard .player-name em {
  text-shadow: 0.5px 0.5px 2px rgba(0, 0, 0, .3)!important;
    text-overflow: clip;
    width: 150%;
	margin-top: 7%;
	font-size: 80% !important;
    text-align: center !important;
    padding: 0%;
    font-family: Just Dance
}

.dancercard .player-color {
    border-radius: 25px;
    width: 75%!important;
    height: 15%;
    top: -20%;
    margin-left: 9.6%;
    left: 4%;
}

.platform
{
	display: none
}
#afterdance .blue .stars::after, #afterdance .blue .color::after, #afterdance .blue .color::before, #afterdance .blue .flag::after, .state-dance #players .player:nth-of-type(1) .player-color, .state-dance #players .player:nth-of-type(1) .player-color::after, #racetrack-fill-p1,#afterdance .blue .color{
    background: linear-gradient(90deg, #22d3ea 0%, #22d3ea 100%);
}

#afterdance .red .stars::after, #afterdance .red .color::after, #afterdance .red .color::before, #afterdance .red .flag::after, .state-dance #players .player:nth-of-type(2) .player-color, .state-dance #players .player:nth-of-type(2) .player-color::after, #racetrack-fill-p2,#afterdance .red .color{
    background: linear-gradient(90deg, #ff9409 0%, #ff9409 100%) !important;
}

#afterdance .green .stars::after, #afterdance .green .color::after, #afterdance .green .color::before, #afterdance .green .flag::after, .state-dance #players .player:nth-of-type(3) .player-color, .state-dance #players .player:nth-of-type(3) .player-color::after, #racetrack-fill-p3,#afterdance .green .color{
    background: linear-gradient(90deg, #fe0374 0%, #fe0374 100%) !important;
}

#afterdance .aqua .stars::after, #afterdance .aqua .color::after, #afterdance .aqua .color::before, #afterdance .aqua .flag::after, .state-dance #players .player:nth-of-type(4) .player-color, .state-dance #players .player:nth-of-type(4) .player-color::after, #racetrack-fill-p4,#afterdance .aqua .color{
    background: linear-gradient(90deg, #87ff58 0%, #87ff58 100%) !important;
}

#afterdance .blue .player-content .name {color: #22d3ea}
#afterdance .red .player-content .name {color: #ff9409}
#afterdance .green .player-content .name {color: #fe0374}
#afterdance .aqua .player-content .name {color: #87ff58}

#racetrack
{
    top: 22.5% !important;
    left: 1% !important
}

#racetrack .progress-bar {
        right: 5%;
        width: 35%;
    border: none !important
    }

#racetrack .star3,
    #racetrack .star2,
    #racetrack .star1 {
        margin-bottom: -2%;
    }

    #racetrack .star3 {
        bottom: 40%;
    }

    #racetrack .star2 {
        bottom: 24%;
    }

    #racetrack .star1 {
        bottom: 8%;
    }

    #racetrack .star {
        left: 23%;
        width: 0.55rem;
        height: 0.55rem;
    }

    #racetrack {
        top: 18.3%;
        left: -1%;
        width: 7.2%;
        height: 55.2%;
    }

#racetrack .star
{
    transform: scale(1) rotate(13deg) !important;
    left: 10%
}

@keyframes racetrack-star-beat
{
    0%
    {
        transform:scale(1) rotate(13deg)
    }
    
    15%
    {
        transform:scale(0.95) rotate(13deg)
    }
    
    80%
    {
        transform:scale(1) rotate(13deg)
    }
    
    100%
    {
        transform:scale(1) rotate(13deg)
    }
}

#afterdance
{
    background-image: none !important;
}

#racetrack-fill-p1 {
    transition: .3s all !important
}

#racetrack-fill-p2 {
    transition: .3s all !important
}

#racetrack-fill-p3 {
    transition: .3s all !important
}

#racetrack-fill-p4 {
    transition: .3s all !important
}

.racetrack-fill-players
{
  border-radius: 3px;
}

#racetrack .progress-bar
{
  border-bottom: 1px solid #daf3f08c;
  border-radius:8px;
}

.progress-background
{
	background: #000000a6;
    background-image: none!important;
    border: #fff0 2px solid ;
    -webkit-mask-image: linear-gradient(0deg, rgb(0, 0, 0) 60%, #f000 100%) !important;
}

#beat .particle-system
{
  display: none;
    opacity: 0
}

#beat {
    width: 45% !important;
    height: 13% !important;
    bottom: -3.5% !important;
    left: -48%;
    background-image: url(https://imgur.com/Cl28TvJ.png);
    background-size: 100% 100% !important;
    background-position: center !important;
    border-bottom: none;
    opacity: 1 !important;
}

.hud.beat > #players.animate .player-stars .star:not(.no-beat)::before {
    animation: none !important
}

#pictos {
    width: 18.9% !important;
    top: 69.4%
}
#pictos.multi-coach {
    width: 26%!important;
    top: 69.4%
}

#pictos.multi-coach #beat {
    width: 35% !important;
    left: -40%;
}
.picto {
    left: -60% !important;
}
.multi-coach .picto {
    left: -57%!important;
}

@keyframes CoachBeatBefore 
{
    0% 
    {
        transform: scale(0.58);
        -webkit-filter: brightness(110%);
        filter: brightness(110%);
    }

    100% 
    {
        transform: scale(0.6);
        -webkit-filter: brightness(100%);
        filter: brightness(100%);
    }
}

@keyframes BeatCoach {
    100% {
        opacity: 1;
        transform: scale(1.0, 1.0);
    }
    
    
    10% {
        opacity: 1;
        transform: scale(1.08, 1.0);
    }

    00% {
        opacity: 1;
        transform: scale(1.0, 1.0);
    }
}

#players .stars {
    top: 30% !important;
    transform: scale(0.75);
    left: -26%;

}

#players .star.star-1,
#players .star.star-2,
#players .star.star-3,
#players .star.star-4,
#players .star.star-5 {
    width: .4rem;
    height: .4rem;
    margin: 0 -.09rem;
    transform: rotate(13deg)
}

.state-afterdance #just-dance-now
{
	background-image:white;
	background-size: 100%;
}
#afterdance .img--afterDance .coach {
    display: none
}
#afterdance .img--afterDance::before {
    display: none
}
#afterdance .song-info {
    top: -28%;
    transform: scale(0.8);
    left: -60%;
}
#afterdance .title, #afterdance .artist {
    padding-left: 0%;
    color: #fff;
}
#afterdance .song-info .artist {
    left: -10% !important
}
#afterdance .player .name {
    padding-left: 0%;
    color: #fff;
    font-size: 40px;
    left: 10% !important;
    z-index: -1 !important
}
#afterdance .song-info::before {
    display: none
}
#afterdance .color::before {
    transform: rotate(0deg) !important;
    width: 100% !important;
    opacity: 0 !important
}
#afterdance .name {
    text-shadow: none !important;
    font-family: Just Dance;
    font-size: 20% !important;
    transform: translatey(-30%) translatex(-5%);
    height: 180%
}
#afterdance .players.player-solo .name {
    transform: translatey(-30%) translatex(0%);
}

#afterdance .song-info .artist {
    font-size: 0px;
    left: -100% !important;
}

.player-content {
    background: none !important;
    border-bottom: solid #80808000 2px;
    border-radius: 0px !important
}
#afterdance .players.player-solo .color::before {
    transform: rotate(0deg) !important;
    width: 100% !important
}
#afterdance .color {
    border-radius: 50px;
    width: 110% !important;
    position: relative;
	top: 115%;
	left: -17%;
    transform: scale(0.4);
    z-index: -9999999999999999999999999 !important;
	animation: scoreshrink 1s;
	color: transparent;
}

#afterdance .results .player .score.superstar::after, #afterdance .results .player .score.megastar::after {
    content: '';
    width: 0.8rem;
    height: 0.2rem;
    position: absolute;
    top: 0.3rem;
    left: 0.70rem;
}

@keyframes scoreshrink
{
	0%{
		opacity: 0;
		margin-top: 2em
	}
}

#afterdance .player::before {
    border-radius: 10px;
    width: 60%
}
#afterdance .score::before {
    display: none
}
#afterdance #crown-container {
    left: 20% !important;
    display: none
}
#afterdance .crown {
    display: none;
}
#afterdance .song-info .artist {
    font-size: 0px;
    left: -100% !important
}
#afterdance::before {
    opacity: 0 !important;
    display: none !important;
}
#afterdance::after {
    opacity: 0 !important
}
#afterdance .flag {
    display: none;
}
#afterdance::before {
    display: none !important
}
#afterdance .results {
    top: 5% !important;
    z-index: 9999999999999999999999 !important;
    padding: 0% !important;
    left: -12%;
    transform: scale(1.2)
}
#afterdance .players .avatar-wrapper {
    left: -10%
}
.state-afterdance #just-dance-now {
    background-image: url(https://imgur.com/y8TZLLx.png);
    background-size: cover
}

#afterdance .players {
    list-style: none;
    line-height: 0;
	top: -30%;
    max-height: 151%;
    overflow: hidden;
    width: 100%;
	z-index: -9999999999 !important;
    position: relative;
    font-family: "Just Dance";
}

.state-afterdance #toast
{
	display: none !important;
}

#afterdance {
    background-image: none !important
}

  #just-dance-now .tutorial
  {
    position: relative;
    width: 100%;
    height: 100%;
    left: 0%;
    background-image: url(https://imgur.com/SSotzg5.png);
    background-position: center;
    background-size: cover;
    background-repeat: no-repeat;
    animation: PopUp 0.6s !important;
  }

.tutorial__spinner.visible
{
    font-family: Just Dance Regular !important
}

#dance-transition .dt2,
#dance-transition .dt3,
#dance-transition .dt4,
#dance-transition .dt5,
#dance-transition .dt6,
#dance-transition .dt7,
#dance-transition .dt8 #dance-transition {
    z-index: 9999999999999999999;
    background-image: none !important;
    background-color: #000
}

#dance-transition .dt1 {
    top: 0!important;
    background-image: none !important;
    background-color: #000
}

#dance-transition .dt,
#dance-transition .dt-row,
#dance-transition.animate .dt,
#dance-transition.animate .dt-row,
#dance-transition.animate.out .dt,
#dance-transition.animate.out .dt-row {
    background-position: center!important;
    margin-top: 0!important;
    margin-bottom: 0;
    margin-left: 0;
    width: 100%;
    height: 100%;
    background-size: cover!important;
    -webkit-transform: none!important;
    transform: none!important;
    background-repeat: no-repeat!important;
    background-image: none !important;
    background-color: #fff0 !important
}

#dance-transition.animate.in .dt,
#dance-transition.animate.in .dt-row {
    -webkit-transition-property: opacity!important;
    transition-property: opacity!important;
    background-image: none !important;
    background-color: #000 !important
}

#dance-transition::before {
    background: url(https://imgur.com/SSotzg5.png) center no-repeat, center no-repeat !important;
    background-size: cover!important;
    width: 100%;
    height: 100%;
    z-index: 1;
    background-color: #fff0 !important
}

#dance-transition.in::before {
    animation: PopUp 0.6s !important;
    opacity: 1 !important;
    transition: opacity 0.8s
}

#dance-transition.out::before {
    animation: PopIn 0.8s !important;
    transition: opacity 0.5s;
    transform: scale(0.75)
}

#dance-transition.animate.out::before,
#dance-transition.animate.out .dt-row {
    transition-timing-function: ease-in;
}
@keyframes PopUp {
    0% {
        transform: scale(0.75);
        opacity: 0 !important
    }

    100% {
        left: 0%;
        transform: scale(1.0);
        opacity: 1 !important
    }
}

@keyframes PopIn {
    0% {
        transform: scale(1);
        opacity: 1
    }

    100% {
        left: 0%;
        transform: scale(0.75);
        opacity: 0
    }
}

.songlist-container .song-grid
{
	margin-top: 0.5% !important
}

.state-tutorial #just-dance-now
{
	background: #fff
}

#afterdance .player-solo .player .score {
    width: 90%;
    height: 0.4rem;
    font-size: 34%;
    -webkit-transform: none;
    -ms-transform: none;
    transform: none;
    display: block;
    position: absolute;
    top: 0rem;
    right: -42%;
}

#afterdance .results .player-solo .player .score.superstar::after, #afterdance .results .player-solo .player .score.megastar::after {
    right: 2.95rem;
	transform: scale(1.3);
    left: auto;
}

/*shhh*/
#racetrack .star[data-visible="true"], #players .star, .score .stars .star, .state-songselection .star
{
    background-image: url(https://vignette.wikia.nocookie.net/justdance/images/9/95/Star_glow_jd2019.png/revision/latest?cb=20181124172616) !important
}

.highscore-display.megastar .score__stars .star, .score.megastar .stars .star, #racetrack.megastar .star[data-visible="true"], #players .player.megastar .star
{
    background-image: url(https://vignette.wikia.nocookie.net/justdance/images/7/78/Star_glow_plus_more_jd2019.png/revision/latest?cb=20181124172654) !important
}

.highscore-display.superstar .score__stars .star, .score.superstar .stars .star, #racetrack.superstar .star[data-visible="true"], #players .player.superstar .star
{
    background-image: url(https://vignette.wikia.nocookie.net/justdance/images/4/4c/Star_glow_plus_jd2019.png/revision/latest?cb=20181124172633) !important
}


}

@-moz-document domain("justdancenow.com") {

.MONTERO
{background-image: url(https://imgur.com/UNPUi99.png)}
.state-coachselection .MONTERO
{background-image: url(https://jdnow-api-contentapistoragest.justdancenow.com/map_bkg/MONTERO_map_bkg.jpg)}

.BuiltForThis
{background-image: url(https://imgur.com/rUUMTmY.png)}
.state-coachselection .BuiltForThis
{background-image: url(https://vignette.wikia.nocookie.net/justdance/images/6/63/Builtforthis_map_bkg.png/revision/latest?cb=20200131022725)}

.KissMeMore
{background-image: url(https://imgur.com/PRTdWY9.png)}
.state-coachselection .KissMeMore
{background-image: url(https://vignette.wikia.nocookie.net/justdance/images/7/7f/Kissmemore_map_bkg.png/revision/latest?cb=20220324184119)}
.KissMeMore:before
{background-image: url(https://vignette.wikia.nocookie.net/justdance/images/3/37/Kissmemore_cover_albumcoach.png/revision/latest?cb=20220324184003)}
.BumBumTamTam
{background-image: url(https://imgur.com/TvgBYE3.png)}
.state-coachselection .BumBumTamTam
{background-image: url(https://vignette.wikia.nocookie.net/justdance/images/1/16/Bumbumtamtam_map_bkg.png/revision/latest?cb=20200218171811)}

.BadRomanceALT
{background-image: url(https://imgur.com/YxuiqVK.png)}
.state-coachselection .BadRomanceALT
{background-image: url(https://vignette.wikia.nocookie.net/justdance/images/7/71/BadRomanceALT_map_bkg.jpg/revision/latest?cb=20220314153132)}
.BadRomanceALT:before
{background-image: url(https://vignette.wikia.nocookie.net/justdance/images/a/a2/Electromambomu_cover_albumcoach.png/revision/latest?cb=20170725170622)}

.BadRomance
{background-image: url(https://imgur.com/A6vyYi3.png)}
.state-coachselection .BadRomance
{background-image: url(https://vignette.wikia.nocookie.net/justdance/images/4/40/Badromance_map_bkg.png/revision/latest?cb=20200201012148)}

.ComeOn
{background-image: url(https://imgur.com/AWoNE3u.png)}
.state-coachselection .ComeOn
{background-image: url(https://jdnow-api-contentapistoragest.justdancenow.com/map_bkg/ComeOn_map_bkg.jpg)}

.Believer
{background-image: url(https://imgur.com/92aaum4.png)}
.state-coachselection .Believer
{background-image: url(https://jdnow-api-contentapistoragest.justdancenow.com/map_bkg/Believer_map_bkg.jpg)}

.Panini
{background-image: url(https://imgur.com/HdTBhc3.png)}
.state-coachselection .Panini
{background-image: url(https://vignette.wikia.nocookie.net/justdance/images/7/72/Panini_map_bkg.png/revision/latest?cb=20191219190506)}

.Boombayah
{background-image: url(https://imgur.com/RtinhJL.png)}
.state-coachselection .Boombayah
{background-image: url(https://jdnow-api-contentapistoragest.justdancenow.com/map_bkg/Boombayah_map_bkg.jpg)}

.China
{background-image: url(https://imgur.com/PHioewj.png)}
.state-coachselection .China
{background-image: url(https://jdnow-api-contentapistoragest.justdancenow.com/map_bkg/China_map_bkg.jpg)}

.BadGuy
{background-image: url(https://imgur.com/SkcQdot.png)}
.state-coachselection .BadGuy
{background-image: url(https://vignette.wikia.nocookie.net/justdance/images/5/5c/Badguy_map_bkg.png/revision/latest?cb=20191114155053)}

.Lush
{background-image: url(https://imgur.com/SHHD6AR.png)}
.state-coachselection .Lush
{background-image: url(https://vignette.wikia.nocookie.net/justdance/images/0/03/Lush_map_bkg.png/revision/latest?cb=20200211044840)}

.NotYourOrdinary
{background-image: url(https://imgur.com/nAawAw7.png)}
.state-coachselection .NotYourOrdinary
{background-image: url(https://vignette.wikia.nocookie.net/justdance/images/7/7b/Notyourordinary_map_bkg.png/revision/latest?cb=20200222235510)}

.Boys
{background-image: url(https://imgur.com/wqsVT5h.png)}
.state-coachselection .Boys
{background-image: url(https://vignette.wikia.nocookie.net/justdance/images/2/2e/Boys_map_bkg.png/revision/latest?cb=20191106055011)}

.MamaMia
{background-image: url(https://imgur.com/0w5VvVY.png)}
.state-coachselection .MamaMia
{background-image: url(https://vignette.wikia.nocookie.net/justdance/images/a/a0/Mamamia_map_bkg.png/revision/latest?cb=20200627030833)}

.Coolos
{background-image: url(https://imgur.com/eCOdiuj.png)}
.state-coachselection .Coolos
{background-image: url(https://vignette.wikia.nocookie.net/justdance/images/3/32/Coolos_map_bkg.png/revision/latest?cb=20200221033536)}

.Balance
{background-image: url(https://imgur.com/CWPFcHV.png)}
.state-coachselection .Balance
{background-image: url(https://vignette.wikia.nocookie.net/justdance/images/c/c9/Balance_map_bkg.png/revision/latest?cb=20200131224132)}
.Balance::before
{background-image: url(https://vignette.wikia.nocookie.net/justdance/images/2/29/Balance_cover_albumcoach.png/revision/latest?cb=20170723012558)}

.DontWorryMadcon
{background-image: url(https://imgur.com/YmJbzD8.png)}
.state-coachselection .DontWorryMadcon
{background-image: url(https://vignette.wikia.nocookie.net/justdance/images/f/f2/Dontworrymadcon_map_bkg.png/revision/latest?cb=20200218230953)}
.DontWorryMadcon::before
{background-image: url(https://vignette.wikia.nocookie.net/justdance/images/b/bc/DontWorryMadcon_Cover_AlbumCoach.png/revision/latest?cb=20180721235727)}

.Acceptable:after, .Cotton:after, .EyeOfTheTiger:after, .Fame:after, .GirlsJustWant:after, .HeartOfGlass:after, .StepByStep:after, .ThatsTheWay:after, .CantTouchThis:after, .GetAround:after, .DogsOut:after, .Potato:after, .HotNCold:after, .LeFreak:after, .Lump:after
{content: "Just Dance"}

.BabyGirl:after, .Dagomba:after, .ProfesseurDLC:after, .Rasputin:after, .BarbieGirl:after, .BigGirl:after, .CosmicGirl:after, .Xmas:after, .CryingBlood:after, .ElectroTribalDLC:after, .RiverSide:after, .Firework:after, .FunkyTown:after, .Futebol:after, .Girlfriend:after, .JaiHo:after, .Idealistic:after, .KattiKalandal:after, .HeyYa:after, .MugsyBalony:after, .IWantYouBack:after, .Sway:after, .HotStuff:after, .WalkLike:after, .TikTok:after, .MoveYourFeet:after, .ItsRainingMen:after, .Holiday:after, .TakeMeOut:after, .WakeMeUp:after, .ThatsNotMyName:after, .Rockafeller:after, .ProudMary:after, .SoulBossaNova:after, .CantHurryLove:after, .Mambo5:after, .KungFu:after, .NineAfternoon:after, .Hotstepper:after, .HotStep:after, .MonsterMash:after, .MugsyBaloney:after, .ComeOn:after
{content: "Just Dance 2"}

.Airplanes:after, .Apache:after, .Boom:after, .VenusB:after, .BabyOneMoreQUAT:after, .CaliforniaGurls:after, .NoLimit:after, .BoogieWonderQUAT:after, .BoomDLC:after, .CrazyLittle:after, .DynamiteQUAT:after, .ET:after, .GiddyOnUp:after, .HungarianDance:after, .IFeelLove:after, .IWasMadeQUAT:after, .JamboMambo:after, .JumpGA:after, .Kurio:after, .AThousandDances:after, .Lollipop:after, .Mamasita:after, .PartyRock:after, .Promiscuous:after, .Satellite:after, .GotMeDancing:after, .SomethinStupid:After, .SoulSearch:after, .SpectronizerQUAT:after, .TakeOnMe:after, .TeenageDream:after, .MasterBlaster:after, .HalloweenQUAT:after, .TwistShakeIt:after, .BarbraStreisand:after
{content: "Just Dance 3"}

.GangnamStyleDLC:after, .MrSaxobeat:after, .GoodFeeling:after, .TimeWarpQUAT:after, .KetchupSong:after, .DieYoungDLC:after, .HeavyCrossDLC:after, .BeautyAndABeat:after, .BewareOf:after, .CantTakeMYEyes:after, .CrucifiedQUAT:after, .HitEmUp:after, .ILikeItLike:after, .Istanbul:after, .LoveYouLike:after, .OhNo:after, .GlamorousCusto:after, .Superstitious:after, .FinalCountdown:after, .TribalDance:after, .WantUBack:after, .Americano:after, .YouReTheFirst:after, .MovesLikeDLC:after, .BeautyAndABeatDLC:after, .TribalDanceALT:after, .CantTakeMyEyes:after, .CantTakeMyEyesALT:after, .Amore:after, .Diggin:after, .Domino:after, .GoldDust:after, .GoodFeelingALT:after, .WeRWhoWeRDLC:after, .YouMakeMeFeelDLC:after, .HeavyCross:after, .HitTheLights:after, .IstanbulQUAT:after, .JailHouse:after, .JailHouseALT:after, .Maneater:after, .MasQueNada:after, .NeverGonna:after, .Oath:after, .IDidItAgainQUAT:after, .PartOfMeDLC:after, .PrimaDonna:after, .RockNRoll:after, .SuperBass:after, .Superstition:after, .TheFinalCountdown:after
{content: "Just Dance 4"}

.Starships:after, .ThatPower:after, .SexyAndIKnowItDLC:after, .PoundTheAlarm:after, .PoundTheAlarmALTDLC:after, .FineChina:after, .FineChinaALT:after, .ThatPowerALT:after, .ThatPowerOSCDLC:after, .Luftballons:after, .AmericanGirlDLC:after, .LimaGolf1:after, .Aquarius:after, .BlurredLines:after, .BlurredLinesALTDLC:after, .Danse:after, .FeelSoRight:after, .Flashdance:after, .Gentleman:after, .Ghostbusters:after, .GhostbustersSWT:after, .IWillSurvive:after, .IWillSurviveOSC:after, .Zagreb:after, .ItsYou:after, .ItsYouSWT:after, .JustDance:after, .JustDanceSWTDLC:after, .GentlemanSWT:after, .Cmon:after, .CantGetEnoughDLC:after, .KIDSDayO:after, .DontYouWorryDLC:after, .WhatAFeeling:after, .KIDSFraggleRock:after, .GimmeGimme:after, .GimmeGimmeOSC:after, .Gigolo:after, .JustDanceOSC:after, .LoveBoat:after, .MainGirlDLC:after, .Misunderstood:after, .RobotRock:after, .TheWay:after, .TheWorldDLC:after, .TurnUpTheLove:after, .TurnUpTheLoveALT:after, .WhatAboutLoveDLC:after, .YMCA:after, .OtherSide:after, .Moskau:after, .SafeAndSound:after, .Wild:after, .RockNRollDLC:after, .StarshipsALT:after, .WakingUp:after, .IKissed:after, .PrinceAli:after, .INeedYourLoveDLC:after, .WakeMeUpDLC:after, .KiloPapaDLC:after, .OneWayDLC:after, .TurnUpTheLoveDLC:after, .IKissedOSC:after, .IKissedSWT:after
{content: "Just Dance 2014"}

.Summer:after, .Happy:after, .BreakFreeDLC:after, .BadRomance:after, .Balance:after, .Birthday:after, .BoomClapDLC:after, .BuiltForThis:after, .DontWorry:after, .Sirtaki:after, .HappyALT:after, .NeverCanSay:after, .OnMyMind:after, .LoveIsAll:after, .Mad:after, .LetItGo:after, .LetItGoDLC:after, .BollywoodXmas:after, .WalkThisWay:after, .WalkThisWayALT:after, .HoldingOut:after, .Macarena:after, .SpinMeRound:after, .BrokenHeart:after, .FindYou:after, .SummerALT:after, .FindYourMove:after, .ILoveIt:after, .BlackWidow:after, .BadRomanceALT:after
{content: "Just Dance 2015"}

.HeyMama:after, .Rabiosa:after, .RabiosaALT:after, .Circus:after, .CircusALT:after, .AboutThatBass:after, .AboutThatBassALT:after, .Animals:after, .AnimalsALT:after, .Fancy:after, .FancyALT:after, .AngryBirds:after, .Chiwawa:after, .Blame:after, .BornThisWay:after, .BornThisWayALT:after, .BoysBoys:after, .Coolos:after, .CopaCabana:after, .ElectroMambo:after, .Fancy:after, .FancyALT:after, .Fun:after, .Gibberish:after, .Hangover:after, .Heartbeat:after, .HitTheRoad:after, .HitTheRoadALT:after, .IGotAFeeling:after, .HeyMama:after, .Albatraoz:after, .LevanPolkka:after, .SaintPatrick:after, .JuntoATi:after, .KaboomPow:after, .KungFunk:after, .LetsGroove:after, .Lights:after, .NoControl:after, .StadiumFlow:after, .StuckOnAFeeling:after, .Teacher:after, .TeacherALT:after, .TheseBoots:after, .ThisIsHow:after, .ThisIsHowALT:after, .UptownFunk:after, .UptownFunkALT:After, .UnderTheSea:after, .WantToWantMe:after, .WhenTheRain:after, .WilliamTell:after, .YouNeverCan:after, .YoureTheOne:after, .HeyMamaALT:after, .WantToWantMeALT:after, .IGotAFeelingALT:after, .Ulibayssia:after, .TheChoice:after
{content: "Just Dance 2016"}

.NaeNae:after, .September:after, .SeptemberALT:after, .AllAboutUs:after, .GhostInTheKeys:after, .LeanOn:after, .Bailar:after, .Bang:after, .Bonbon:after, .CakeByTheOcean:after, .CakeByTheOcean:after, .CakeByTheOceanALT:after, .CantFeelMyFace:after, .Samba:after, .CheapThrills:after, .CheapThrillsALT:after, .ColaSong:after, .ColaSongALT:after, .DontStopMe:after, .DontStopMeALT:after, .RedMangoose:after, .DragosteaDinTei:after, .ElTiki:after, .ElTikiALT:after, .Groove:after, .WhatIsLove:after, .WhatIsLoveALT:after, .RunTheNight:after, .Sorry:after, .SorryALT:after, .TicoTico:after, .AllAboutUs:after, .Bicicleta:after, .Leila:after, .Oishii:after, .Radical:after, .RadicalALT:after, .TeDominar:after, .ILoveRock:after, .IntoYou:after, .LastChristmas:after, .LastChristmas:after, .LeanOn:after, .LittleSwing:after, .PoPiPo:after, .WhereverIGo:after, .WorthIt:after, .WorthItALT:after, .Hips:After, .HipsALT:after, .Titanium:after, .LikeIWould:after, .NaeNaeALT:after, .LeanOnALT:after, .BlackMamba:after, .ScreamNShout:after, .ScreamNShoutALT:after, .SingleLadies:after, .Daddy:after
{content: "Just Dance 2017"}

.LegSongCHN:after, .KaraokeForeverCHN:after
{content: "舞力全开2017"}

.AnotherOne:after, [class="song-cover song-cover--hi-res 24K"]:after, [class="song-cover song-cover--hi-res 24KALT"]:after, .AllYouGotta:after, .MissAmazingKids:after, .AnotherOneALT:after, .Automaton:after, .AutomatonALT:after, .WakaWaka:after, .Despacito:after, .KissingStrangers:after, .KissingStrangersALT:after, .Dharma:after, .DharmaALT:after, .DaddyCool:after, .BadLiar:after, .BeepBeep:after, .BlowYourMind:after, .Blue:after, .Copperhead:after, .BubblePop:after, .BubblePopALT:after, .Carmen:after, .Chantaje:after, .ChantajeALT:after, .DespacitoALT:after, .Diggy:after, .FearlessPirateKids:after, .Sidewinder:after, .Footloose:after, .FootlooseKids:after, .FunkyRobotKids:after, .GotThat:after, .HappyFarmKids:after, .WakaWakaALT:after, .WakaWakaKids:after, .HowFar:after, [class="song-cover song-cover--hi-res 8BitRetake"]:after, .Instruction:after, .ItsyBitsyRetake:after, .JohnW:after, .JohnWALT:after, .KeepOn:after, .LoveWard:after, .MagicHalloweenKids:after, .MakeItJingle:after, .NaughtyGirl:after, .PixieLandKids:after, .RiskyBusiness:after, .Rockabye:after, .SayonaraRetake:after, .ShapeOfYou:after, .SideTo:after, .SideToALT:after, .SlumberParty:after, .SugarDance:after, .SwishSwish:after, .Cottonmouth:after, .TumBum:after, .TumBumALT:after
{content: "Just Dance 2018"}

.Bang2019:after, .LittleParty:after, .DDUDU:after, .LittlePartyALT:after, .Adeyyo:after, .MiMiMi:after, .Havana:after, .HavanaALT:after, .BumBumTamTam:after, .NinjaKids:after, .PocoLoco:after, .JurassicKids:after, .CaPlane:after, .WorkWork:after, .WorkWorkALT:after, .WaterMe:after, .WaterMeALT:after, .Bang2019VIP:after, .Bang2019ALT:after, .BumBumTamTamALT:after, .Calypso:after, .SpaceGirlKids:after, .Familiar:after, .Finesse:after, .FinesseALT:after, .Fire:after, .FireOnTheDancefloor:after, .GhostKids:after, .HalaBel:After, .WhereAreYou:after, .WhereAreYouALT:after, .IFeelItComing:after, .ImStillStanding:after, .SaintPatrickKids:after, .MerryChristmasKids:after, .MadLove:after, .MamaMia:after, .MiloscW:after, .MonstersAcademyKids:after, .Narco:after, .NewReality:after, .NewRules:after, .NewRulesALT:after, .NewWorld:after, .NoTearsLeft:after, .NotYourOrdinary:after, .OMG:after, .OMGALT:after, .ObsessionRetake:after, .OnNePortePas:after, .OneKiss:after, .PacMan:after, .RaveIn:after, .Rhythm:after, .SangriaWine:after, .Shaky:after, .SweetLittle:after, .SweetSensation:after, .TOY:after, .TheExplorerKids:after, .Bremen:after
{content: "Just Dance 2019"}

.IAmTheBest:after, [class="song-cover song-cover--hi-res 7Rings"]:after, .KillThisLove:after, .KillThisLoveALT:after, .IDontCare:after, .Bangarang:after, .CanCan:after, .Skibidi:after, .TalkALT:after, [class="song-cover song-cover--hi-res 365"]:after, [class="song-cover song-cover--hi-res 7RingsALT"]:after, .AlwaysLookOn:after, .BadGuy:after, .BabyShark:after, .ConAltura:after, .OldTownRoad:after, .OldTownRoadALT:after, .Policeman:after, .Lullaby:after, .ConCalma:after, .GodIsAWoman:after, .GodIsAWomanALT:after, .Bangarang:after, .BangarangALT:after, .IAmTheBestALT:after, .BadBoy:after, .SoyYo:after, .BassaSababa:after, .DjaDja:after, .Everybody:after, .FancyTwice:after, .Footwork:after, .FitButYouKnow:after, .FreezeKids:after, .GetBusy:after, .BirthdayKids:after, .HighHopes:after, .ILikeIt:after, .AdventurerKids:after, .JustAnIllusion:after, .KeepInTouch:after, .ChefKids:after, .BalMasque:after, .MaItu:after, .SchoolyardKids:after, .MedievalKids:after, .Swag:after, .RainOverMe:after, .RainOverMeALT:after, .SoyYoALT:after, .StopMovin:after, .Sugar:after, .Sushii:after, .SushiiALT:after, .DoCarnaval:after, .TakiTaki:after, .TakiTakiALT:after, .Talk:after, .TalkALT:after, .TelAviv:after, .BandmasterKids:after, .TheTime:after, .TheTimeALT:after, .UglyBeauty:after, .Vodovorot:after
{content: "Just Dance 2020"}

.Georgia:after, .BlindingLights:after, .BlindingLightsALT:after, .Juice:after, .JuiceALT:after, .TheWeekend:after, .HeatSeeker:after, .FriendInMe:after, .DanceMonkey:after, .AdoreYou:after, .Alexandrie:after, .DontStart:after, .AllTheGoodGirls:after, .BalletKids:after, .PacaDance:after, .Joone:after, .BoyYouCan:after, .FeelSpecial:after, .FeelSpecialALT:after, .Magenta:after, .BadAssPrincessKids:after, .SaySo:after, .Senorita:after, .DibbyDibby:after, .KickIt:after, .KickItALT:after, .Kuliki:after, .WithoutMe:after, .WithoutMeALT:after, .InTheNavy:after, .CarpetKids:after, .RainOnMe:after, .Lacrimosa:after, .ChasmonauteKids:after, .HabibiYaeni:after, .EcoloKids:after, .Sorbet:after, .Runaway:after, .Temperature:after, .Volar:after, .Rare:after, .OtherSideSZA:after, .TillTheWorldEnds:after, .SpyKids:after, .HabibiYaeniALT:after, .RareALT:after, .SambaDeJaneiro:after, .TillTheWorldEnds:after, .Buscando:after, .QueTirePaLante:after, .JuiceVIP:after, .DansVanDeFarao:after, .BuscandoALT:after, .DontStartALT:after, .TemperatureALT:after, .Uno:after, .SambaDeJaneiroALT:after, .TillTheWorldEndsALT:after
{content: "Just Dance 2021"}


.RockYourBody:after, .Levitating:after, .Boombayah:after, .Believer:after, .China:after, .SaveYourTears:after, .Chandelier:after, .Jopping:after, .Baiana:after, .Jerusalema:after
{content: "Just Dance 2022"}

.ShutUp:after, .KDance:after, .DancingQueen:after, .AintMy:after, .AmIWrong:after, .BetterWhen:after, .Boys:after, .BoysALT:after, .Cheerleader:after, .Criminal:after, .DameTu:after, .DoneForMe:after, .DontLet:after, .DontWorryMadcon:after, .Error:after, .FeelIt:after, .GetUgly:after, .HandClap:after, .HoldMyHand:after, .HowDeep:after, .Imya505:after, .Natoo:after, .Juju:after, .JumpMaLa:after, .Andy:after, .Lush:after, .MakeMeFeel:after, .MeToo:after, .Medicina:after, .MiGente:after, .NoLie:after, .OnaTanczyDlaMnie:after, .Peanut:after, .Sax:after, .Sun:after, .TasteTheFeeling:after, .TheGreatest:after, .Thumbs:after, .WhatLoversDo:after, .DontKnowMe:after, .Youth:after, .MedicinaALT:after, .Monster:after, .Barbie:after, .HandClapFAN:after, .NewWorldALT:after, .SwishSwishALT:after, .TasteTheFeelingALT:after, .WakeMeUpALT:after, .TheWayIAre:after, .ComeBackHome:after, .GirlsLike:after, .EQUIS:after, .Panini:after, .USA:after, .StupidLove:after, .CalypsoFAN:after, .Tusa:after, .AllTheStars:after, .Positions:after, .MONTERO:after, .KissMeMore:after
{content: "Just Dance Unlimited"}

.ABBADancingQueen:after, .ABBAFernando:after, .ABBAGimmeGimme:after, .ABBATakeAChance:after, .ABBATheWinner:after, .ABBAWaterloo:after, .ABBAVoulezVous:after, .ABBALayAllYourLove:after, .ABBASuperTrooper:after, .ABBAMoneyMoney:after, .ABBASOS:after, .ABBAMammaMia:after, .ABBAHoneyHoney:after, .ABBAKnowingMe:after
{content: "ABBA: You Can Dance"}

.KIDSWorkingOnTheRailroad:after, .KIDSIfYoureHappy:after, .KIDSWheelsOnTheBus:after
{content: "Just Dance Kids"}

.KIDSAccidentallyInLove:after, .KIDSFiveLittleMonkeys:after, .KIDSTheLionSleepsTonight:after, .KIDSJingleBells:after
{content: "Just Dance Kids 2"}

.KIDSHickoryDickoryDock:after, .KIDSILikeToMoveIt:after, .KIDSMaryHadALittleLamb:after, .KIDSWeGoWellTogether:after
{content: "Just Dance Kids 2014"}
}